OVERVIEW


This is our anniversary edition of the Select ZenTriode Preamp previously known as the CSP. If you've ever wanted a World Class tube preamp or a headphone amplifier that's dead quiet and can drive anything you throw at it with musicality and grace, then this is probably it.

It was originally designed as a replacement for our top of the line MLB headphone amp and in the process also became a replacement for our popular CSP preamp. Besting the sound, performance and looks of both, this one really pegs the value meter! Read the designer's notes for the full story.
FEATURES

Single Ended Triode Class A1 operation with a tube rectified high current power supply that is five times bigger than required. The liquidity of this design proves the best form of artifact free regulation is brute raw current - you can hear it.

There is a single volume control located at the front of the CSP2+. The line level output was designed with a low output impedance and an adjustable output level for each channel. The output level can be adjusted between 0 ~ 36 volts! That means it really WILL drive anything. If your amplifier needs gain to develop a proper sense of dynamics, it's here in spades. However, if your amp has a low input sensitivity (like most main stream amplifiers today) you don't need gain so you simply lower the output level to 2 volts or less. This will let YOU set the usable volume range for any amplifier. No more amps getting screaming loud with the volume barely cracked on.

Inputs, there are two. Both tied directly through a silver toggle switch located by the jacks for the cleanest signal path possible. Of course there ARE NO CIRCUIT BOARDS in the CSP2+. Everything is point to point hand built with silver wire and absolute top grade non-Chinese parts.

Outputs are stereo with a single mono output jack for running sub-woofers or center speakers in a 3 speaker stereo array.

The CSP2+ is single-ended inputs and outputs and can not be wired for balanced XLR jacks, sorry.

Headphone output is also very healthy being enough to drive 95% of audiophile headphones way louder than you could stand to listen to them. Volume for the headphones is the same volume control in the front that controls the line level. Plugging in the headphones does not mute the line level outputs. Instead the volume ratio between what comes out of your speakers and what you hear in the headphones is approx 10 to 1. It makes your speakers a low level background monitor for when you take the headphones off and are selecting new music. Off course you can simply turn your amplifier off if you don't want this feature.

As of July 2010 the CSP2 became the CSP2+ with the addition of two additional input level controls making it possible to perfectly dial in the dynamics and gain for any pair of headphones. No more "gets too loud too fast" on high impedance phones, instead you adjust the input levels against the master volume control to achieve a perfect balance exactly where you want it. This has proved to be a revelation even for lower impedance phones of 250 ohms or less, basically all phones. You simply turn the master volume up to a level that is just past your desired listening level, and then dial back the trim controls until the perfect volume is reached. You'll hear how this can relax and open up a set of phones that otherwise came off a little too aggressive or dry.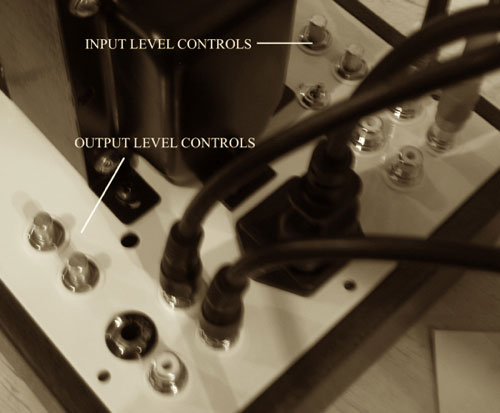 TUBES

The CSP2+ comes with the very highest grade 6N1P's which tend to be the warmest sounding and are long life tubes. You can however use 6922's or 6DJ8's as direct plug-in replacements if you enjoy a little tube rolling. The CSP2+ usually ships with the a 5U4 rectifier tube, but you can also use 5Y3GT or 5AR4. The amp is self-biasing so no adjustments are needed for the life of the unit.


WOODS

The CSP2+ comes standard with your choice of black figured wood base shown in the picture at the top of this page or you can have a contemporary style base in natural walnut shown below.

Custom bases can also be made in the style shown below from any hardwood including many exotics for an extra charge. Custom bases are non-refundable. The wood bases for the CSP2+ are user interchangeable. That means you can purchase a custom base at any time for your CSP2+ and change it yourself !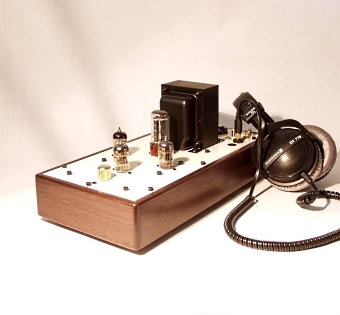 Shown in optional contemporary base (walnut)


CUSTOM OPTIONS

The CSP2 can be configured with the following options:

Choose between the black figured base or the contemporary walnut
Choose other hardwoods

Stepped attenuator
2 pair of stereo output jacks with relocated headphone jack.

You can check the options you want and check the shipping cost by adding it to the shopping cart.





CABLES

This amplifier is so transparent that differences between cables will now become big differences. If you don't have good interconnects or speaker cables or just not sure how good yours are... we offer reference quality cables that will let you hear its full potential. It is important to us that you hear what your new amp is capable of and most customers, even those with expensive cables, find that ours sound better.




SUPPORT

This amplifier is hand built in the USA by DECWARE / High Fidelity Engineering C0. It comes with a lifetime warranty to the original owner. If you purchase one second hand and ever have questions or technical problems we WILL be happy to check it out for you and service it if needed for a very reasonable rate.

We also have a support forum with many people who own this amplifier who's experiences you may benefit from.






REVIEWS

You may read

reviews on our products

going back 10 years.






HISTORY of REVISIONS








CSP / Manufactured from 2002 to 2006

The original CSP featured a simple steel chassis and internal output level controls. It was a line level preamp only.





CSP2 / Manufactured from 2006 to 2010.

The second model featured an upgraded chassis, and a completely new circuit featuring an OTL headphone output. Line level adjustments became external and increased in max output by five times.


CSP2+ / Manufactured from 2010 to present.

This latest version has an added set of variable input trim controls used to fine tune the output level from your source. Very useful for serious headphone users as it allows you to get the volume range dialed in where you want it. To accomplish this, a complete redesign of the internal layout was implemented making this CSP2+ even more transparent than before.

SPECIFICATIONS
This amplifier requires no adjustments or maintenance other than changing tubes every couple years.

Weight

13 lbs. ea.

Dimensions

8.5" H x 7.250" W x 14.75" D

Circuit type

Single ended Class A Triode OTL

Output

Adjustable 0 ~ 36 volts

Input voltage

250mv ~ 5.0 volts

Noise / Hum

Less than 0.5 millivolts

Input Impedance

50 KOhms

Output Impedance

< 60 ohms

Response

5 Hz ~ 70 kHz

Feedback

ZERO negative feedback used

Rectification

5Y3GT tube rectification

Signal tubes

6N1P or 6922 or 6Dj8

Transformers

Transformer custom made for this pre amplifier by Decware

Biasing

Self-Biasing circuit - never needs adjustment

Resistors

All resistors are audiophile grade

Signal Cap

Audiophile grade poly film/foil

Filter Caps

All filter caps are premium quality

AC cord

Fused IEC connector provided with removable power cord

Consumption

65 watts at full power

Input jacks

RCA type 24K Gold / Teflon

Output jacks

RCA type 24K Gold / Teflon

Headphone jack

1/4 inch stereo jack

Warranty

Lifetime to original owner / 90 days on tubes

VOLTAGES

This amplifier comes standard with our World Voltage Compatible Transformer. Your CSP2+ will be automatically wired for the correct voltage for your country and be supplied with the correct removable power cord.


DESIGN NOTES



Read the Design notes.


OWNERS MANUAL

The owner manual for this amplifier can be viewed on line or printed: Owners manual.pdf