The Mystery Amp came directly from our signature Zen TORII mono-blocks. We wanted something with similar performance, but in a single chassis and at a reduced cost. By building two mono amps in a single chassis, eliminating the fancy transformer covers, reducing the power a bit, using smaller meters and finally by making balanced XLR inputs optional ~ it was possible to maintain the same cost no object design and internal parts used in our $12000 mono-blocks.
The Mono-blocks are unique in that they have a massive power supply with caps so large it is possible to eliminate the choke and any dropping resistors feeding the output stage. Unless you see an amp with similar size caps, you can be certain that it has at least one if not both of these current limiting necessities. This is why the Mono's sound better than almost everything. Well, on that note, the Mystery Amp explores this zen approach a little further by doubling the capacitor size and eliminating the dropping resistor that feeds the input stage. Instead a vacuum regulator tube was used to drop the voltage with no heat and 20 times the ripple rejection of the resistor it replaces. This was a personal goal of mine because it makes this the first tube amp power supply in the world that doesn't use a choke or
any
current robbing resistors to supply both the input and output stages of the amp. Consequently there is no heat or parts to fail. The real impressive part however is the liquidity and speed that results from eliminating these parts.
This is about as close to pure DC power as you'll ever get in a 500 volt amplifier. As a result, the Mystery Amp will have about 50 times the immunity to dirty power from your wall outlet.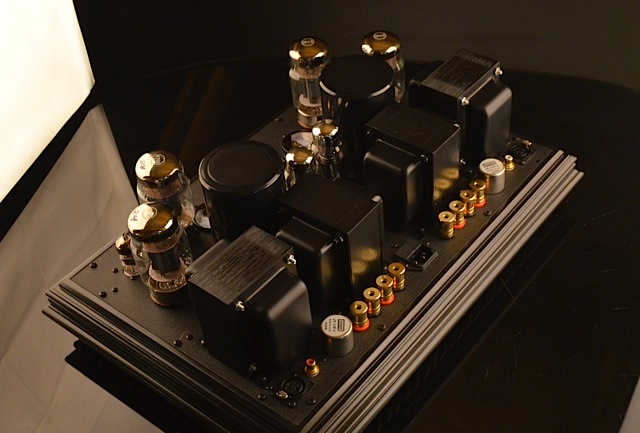 The other nice thing about this amplifier is how it handles the output tube bias adjustments. We've all seen tube amps that have blown up due to "bias runaway" when the plate inside the tube gets red hot and causes the tube and sometimes the amp to fail. This happens because many amplifiers share a bias supply between more than one tube. Setting the bias wrong, or using mismatched tubes can trigger this event. It's a big reason people who like cathode biased amps, like cathode biased amps better than fixed bias amps. Anyway, an adjustable fixed bias amp can actually be as reliable and sound as good or better by simply doing it right.
In the Mystery Amp, I created independent bias supplies for each output tube so that when you adjust one tube, it does not affect the other tubes. That way you only ever have to adjust it once, instead of ten times until you happen to hit it just right. Also a lot of time was spent defining windows of adjustment that worked with all the recommended output tubes without allowing the user to get into too much trouble should he/she miss adjust it. In fact, most of the time it will impossible to get into trouble ensuring long happy tube life.
The biggest thing is output tube matching in push pull amplifiers for linear output and max power, so to that effect rather than have a bias adjustment for each tube, we have one for the pair and one as a balance control located between the meters so that the user can perfectly match the meters at any time in less than a second. Each channel is set up this way. You'll find this handy since tubes drift with temperature and this allows you to counter it on the fly as you listen without tools. It takes all the pain in the ass out of owning a fixed bias amplifier. Of course the meters make great tube testers and clipping indicators allowing you to see if any one tube is prematurely clipping relative to the others despite being perfectly matched at idle.
The voicing on this amplifier is more particular than anything I've done, short of the TORII Mono's. I say that because I have a very strong preference for the 6N23P input stage as that is the only tube I like in this amp. Cryo-treated with silver leads, and flat stacked beeswax film caps are used for all internal coupling, and 2 watt carbon composition resistors throughout the signal path. Factory Tube compliment is the Tungsol KT66, and OA3 and for the driver stage a pair of Russian 6N23P-EV.
Another delightful thing about this amplifier is that is has zero negative feedback so the imaging and sound stage depth are unrestricted and capable of rending whatever is on the recording.
In the end, it is every bit the fidelity and performance of the Zen TORII Mono's with a bit sweeter top end. On most speakers greater than 86dB there was no noticeable difference in power between the Mystery Amp and the Mono's.
The OA3 feeding the input stage combined with double the capacitance of the Mono's gives the Mystery Amp unparalleled accuracy and liquidity.
NOTE: There is also a
forum thread on the Mystery Amp
that I started early in the design process.

-Steve Deckert
---

We carefully hand select and match the tubes for these amplifiers. The amplifiers are tested and burned-in with the tubes you get.
These include four Russian Military Grade 10,000 hour 6N23P-EV's with gold grids, four KT66's and two OA3's per amplifier. (Note the amplifier is also compatible with 6N1P / 6922 / 6DJ8 / 7DJ8 as well as KT77, EL34, 7027, 5881, 6L6)
---



The ZMA comes with some options.
All of these can be configured from within the shopping cart.


OPTION 1 - VOLTAGES

You will be able to select between 110/120 volts 50/60Hz or 220/230/240 volts 50/60 Hz. We will investigate your countries actual voltage and plug type and wire the amp accordingly.

OPTION 2 - WOODS

You can select from a black figured base OR contemporary styles like the ones shown below. Along with the option to have one made in custom woods. When custom woods is selected, a phone call about what wood and what finish you want will happen.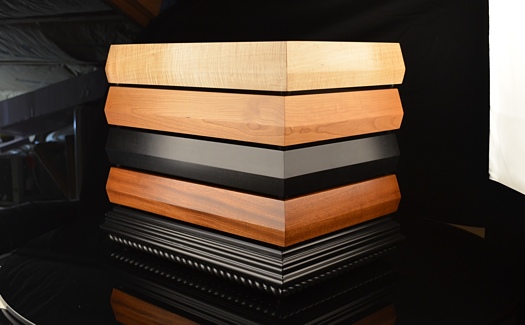 Base options from top to bottom: Maple, Cherry, Black, Walnut, Black Figured.

OPTION 3 - VOLUME CONTROL

You may select from a normal smooth-action volume control OR a stepped attenuator if you prefer those. Our attenuator has 20 steps.


OPTION 4 - KNOBS

There are also some knob choices. From left to right are Ebony, Gold, Black, Cream, Walnut.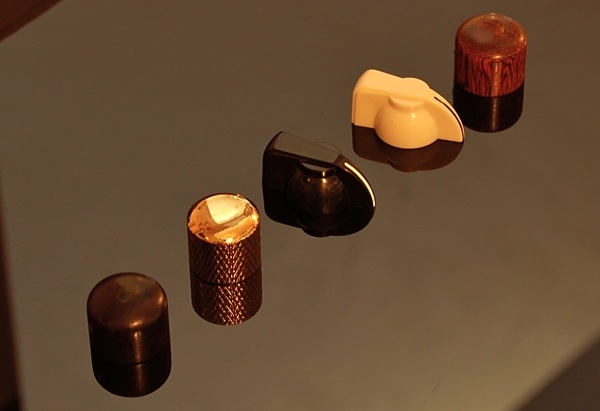 OPTION 5 - OUTPUT TRANSFORMERS

Your amplifier can be configured to use 4 and 8 ohm loudspeakers, OR it can be configured to use 8 and 16 ohm loudspeakers.


OPTION 6 - INPUTS

The amplifier comes standard with RCA inputs (aka Single-Ended inputs) but can also be configured with transformer-balanced XLR inputs. When the amp is configured for XLR inputs, you will still have RCA inputs and either can be used, but not both at the same time.






---
ZEN MYSTERY AMP
OWNER'S MANUAL