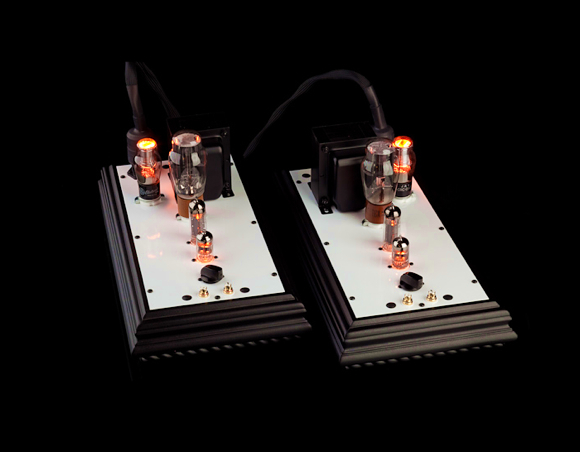 ---
Model SE84ZSM
100,120,240 VAC 50/60Hz
Factory Direct $2295.00
Suggested List $3175.00



ADD TO CART


View Cart or Check Out
---

OVERVIEW:

These amplifiers represent the final degree of the basic Zen Triode design. They are the result of a eleven year evolution of hand building over 2000 Zen amps and dozens of variations along the way. And there were countless hours of phone conversations with customers getting first hand feedback on nearly every one. We believe this platform can go no higher. The bloodline is as follows:
The 1996 SE84C brought real SET hi-fi within reach of serious but broke audiophiles, and still does today.

The SE84CS came a few years later as a tweaked out version of the SE84C, pushing the envelope on resolution.

It recently became the SE84ZS which could be considered the closest thing to the new monos but in a smaller stereo version. The SE84ZS was used along with signature monos below as the main two reference amps during the development of the SE84ZSM monoblocks.

Three versions:

The SV83M
The SV83MDC
The SV83S

These signature pairs of Zen Triode monoblocks spanning 3 revisions and 9 years are the predecessors to the new SE84ZSM amplifiers.
From a performance perspective it should be understood the main motivation for developing the original signature monoblocks was really to not only push the fidelity of the original Zen amp but also to increase the power without losing that wonderful sound.
The new SE84ZMS monoblocks evolved to use a single tube per channel because in the end this was the most transparent. Even though it's précis had 4 watts from paralleled output tubes, the new amplifiers actually get louder and are more dynamic from the benefits of a choke regulated high impedance pure polypropylene film and foil power supply and tube voltage regulation of the input stage.
If you're new to the Zen Triode design - it is based around the 6P15P-EV aka SV83 output tubes which are one of the most linear tubes in the world. It was chosen over 300B, 2A3, 45's and so-on because of it's incredible speed and sonic's.
These amplifiers have only 1 capacitor and 2 resistors in the main signal path. Unlike other SET amps this one loves low impedances and increases in power all the way down to 2 ohms with outstanding dynamics. Wonderfully overbuilt, point-to-point wiring, no circuit boards, even hookup wire is eliminated thanks to a part to part layout. Transparency and believable 3D imaging with near perfect timbre and unparalleled detail are just some of the areas larger more expensive amplifiers fall short on by comparison.


STYLES:
These monos are available in either the black bases shown at the top of the page or in the contemporary walnut bases shown below - your choice. You can also custom order contemporary bases in any hardwood including exotics for an extra fee.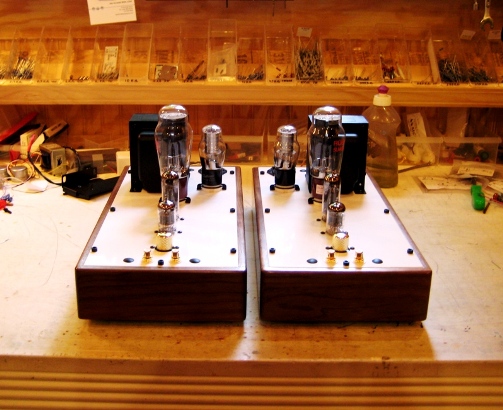 ---
These amps feature both a power and standby switch with polarity sensing LED indicators that will tell you if you one of your wall outlets is wired backwards. They also have a gain control in the front that can be used as a volume knob when no preamps are used. When using a good preamp a second pair of direct input jacks may optionally be used. These bypass the gain control and go directly into the input tube. Jacks can be optionally wired in the back or even in both locations. The tubes are self biasing so there is no maintenance or adjustments - ever.
SPECIFICATIONS:
| | | |
| --- | --- | --- |
| Weight | | 16 lbs. ea. |
| Dimensions | | 8.5" H x 7.250" W x 14.0" D |
| Circuit type | | Single ended Class A Triode |
| Power output | | 2.3 watts RMS into 4 ohms |
| | | NOTE: Power increases as ohms decrease |
| | | Stable into 1 ohm speaker loads |
| Input voltage | | 2.0 volts for full output |
| Noise / Hum | | Less than 1.1 millivolts (amazing for tube gear) |
| Response | | 20 Hz ~ 20 kHz |
| Feedback | | ZERO negative feedback used |
| Rectification | | 5U4G tube rectification |
| Output tubes | | SV83 or EL84/6BQ5 |
| Signal tube | | 6N1P or 6922 or 6Dj8 |
| Voltage Regulation tube | | OA3 |
| Transformers | | All transformers are custom made for this amplifier by Decware |
| Biasing | | Self-Biasing circuit - never needs adjustment |
| Resistors | | All resistors are precision WW/MF by DALE, VISHAY |
| Signal Cap | | General Electric Polyurethane Film Foil or VCAPS or Mundorf silver/oil. |
| AC cord | | Fused IEC connector provided with removable power cord |
| Consumption | | 65 watts at full power |
| Input jacks | | RCA type 24K Gold / Teflon |
| Output jacks | | Gold 5-way binding posts accept 8 gauge wire |
| Speaker dB/1w | | 89 dB minimum / 96 dB is ideal |
| Warranty | | Lifetime to original owner / 90 days on tubes |
VOLTAGES

This unit comes standard with our World Voltage Compatible Transformer. Your amplifier will be automatically wired for the correct voltage for your country and be supplied with the correct removable power cord.

OWNERS MANUAL:
The owner manual for this amplifier can be viewed on line or printed: Owner's manual

TUBES:
This amp is shipped with graded premium quality N.O.S. 6P15P-EV output tubes rated at 5000 hours. These Russian military spec tubes are the top grade of what we came to know in this country as the SV83. You can also use EL84's without adjustments of any kind. You'll find the SV83's to be unparallel in speed and detail - in part because it is a video tube with much wider bandwidth then a normal audio tube. We think these are the best sounding most transparent tubes available today. The EL84 (6BQ5) is a bit warmer sounding giving the amp a different signature by just switching output tubes.
The input tube is a single 6N1P, 6922 or 6DJ8 - your choice. 6N1P's have the warmest tone, 6922's have the best dynamics, 6DJ8's have the most air and micro-detail with a touch less bass. Again, a powerful tool for voicing your amplifier to your particular tastes.
The rectifier is a 5U4 and can be substituted with a 5AR4 or compatible rectifier. Many owners of this amp like using the 274B. Each rectifier change will also make audible differences in the sound and performance of the amplifier.

CABLES:
This amplifier is so transparent that differences between cables will now become big differences. If you don't have good interconnects or speaker cables or just not sure how good yours are we offer affordable reference quality cables that will let you hear how good this amplifier and your gear really is.



DHC Power Cords


DSR Silver Interconnects


ZENSTYX Silver Speaker wire


SUPPORT:
This amplifier is hand built in the USA by DECWARE / High Fidelity Engineering C0. It comes with a lifetime warranty to the original owner. If you purchase one second hand and ever have questions or technical problems we WILL be happy to check it out for you and service it if needed for a very reasonable rate.
We also have a support forum with many people who own this amplifier who's experiences you may benefit from.

REVIEWS:
You may read reviews on this and other Decware amplifiers going back to 1996 at this link: Reviews
---
RELATED INFO



How can 2 watts do anything?



Some favorite loudspeakers to match with your Zen's



Steve's papers for audiophiles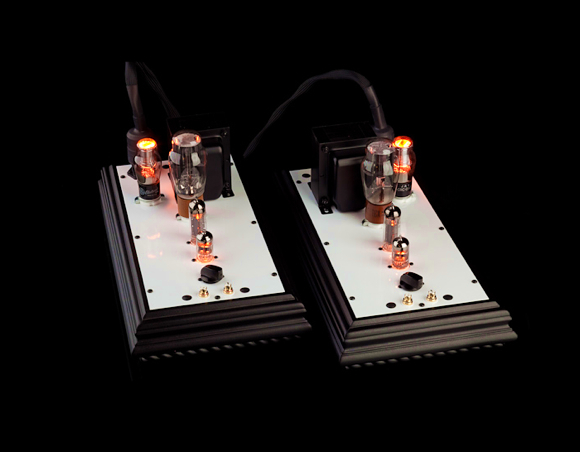 View Cart or Check Out