This uniquely simple open baffle loudspeaker is manufactured and shipped from Caintuck Audio Loudspeakers in the USA and represents a breakthrough in the price vs. performance category.

A life sized 3-D sound-stage from only 2 watts is possible with this crossover-less single-driver loudspeaker!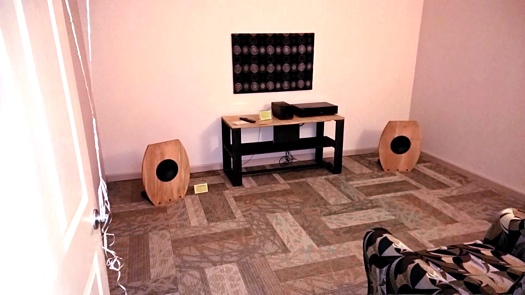 A pair of Betsy Baffles shown in a typical room

---

If you own a Decware amplifier and you have ever wondered about the whole Open Baffle Loudspeaker Concept OR what a Crossover-less Point Source could really sound like, these speakers are a no-brainer because A) they work and B) they don't cost a lot.

To look at these speakers in the picture above it's probably easier to imagine them sounding bad than good which is what compelled me to make a video demonstration of the speakers so you can hear them for yourself!




VIDEO DEMONSTRATION OF THE BETSY OPEN BAFFLE LOUDSPEAKERS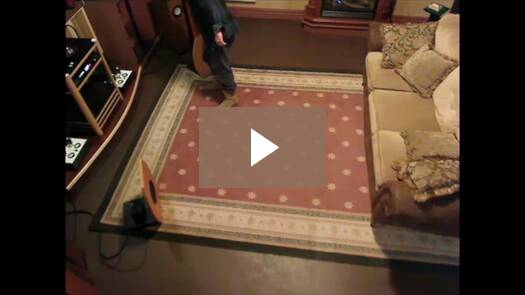 The above video uses the same camera and stereo microphones that we use to broadcast our 3 DAY AUDIO FEST every year in October. The frame rate of the video is set very low so that the audio bandwidth can be set very high which gives you a decent idea of how the various speakers actually sound.

---


OPTIONS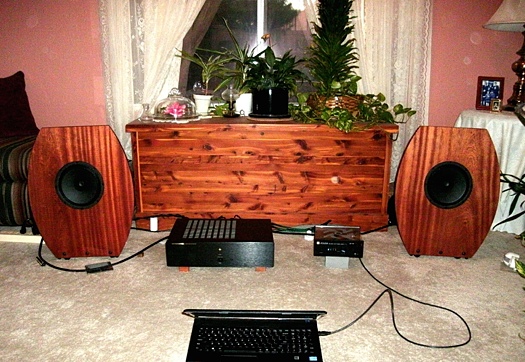 Shown in a cozy home setting is a pair consisting of solid Sapele hardwood with a natural oiled finish.

Betsy Baffles are made in many of different wood styles.

You can see what they have in stock here.

Caintuck Audio Loudspeakers (859) 620-7274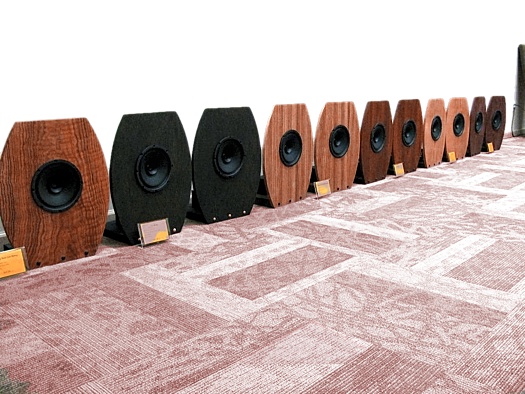 Support
This loudspeaker is hand-built in the USA by Caintuck Audio Loudspeakers and comes with a one year warranty!

Warranty is handled directly through Caintuck Audio.

Questions and general support are available either through Caintuck Audio, or Decware!

Also we have a large support forum here on the website that contains customer reviews, questions, and up-to-date info on the various models.

CAINTUCK AUDIO BETSY SUPPORT FORUM

---


2019 NEWS:

I'm tickled to announce after 3 years since their debut, that there are more Betsy Open Baffle speakers sold than any other speakers on the site! There's a reason for this. If you haven't watched the video on this page, start with that!

Also in the years since this video, Randy of Caintuck audio has refined his game considerably with more exotic looking woods, and recently has added an optional Alnico driver that is going to really appeal to the more hard-core Betsy speaker enthusiasts -- not to mention his optional matching open-baffle subs!


WHERE TO PURCHASE TODAY!

We have taken the buy-it-now button off the page so that you can go directly to the sales page at Caintuck Audio and see pictures of the actual speakers that are there for sale. The variety is wonderful and constantly changing so it is just easier for you to buy them direct from their site than to try to list them all here!


A NOTE FROM STEVE DECKERT about the BETSY BAFFLES

These speakers will more than adequately demonstrate what makes a Decware amp so special. The amplifiers ability to create a massive 3D soundstage with fantastic depth, width and height is better rendered on these speakers than most retail box speakers. The Betsy's lack of a crossover and single point-source and high efficiency make them coherent as hell and extremely fast.





Steve Deckert / DECWARE