Based on our 8 inch model DFR-8, this slightly smaller version takes refinement to an even higher level.
At 94dB 1w/1m this full range crossover-less driver can be driven by as little as 2 watts!
It is built exactly the same as the DFR-8 with a true diaphragmatic suspension for the best mid-range you've ever heard.
A little unusual is the phase guide. It's a vacuum tube. After 2 years of trying to develop the same kind of phase guide we used in our DFR-8, we were unable to match the performance of this simpler solution.
The glass as well as the shape are almost magic in what they do to image focus and top end extension. In fact military tubes with thicker glass sound different then consumer grade with thinner glass, both are very good.
When we say focus, we mean from everywhere in the listening zone, no head vise required.
Longer tubes such as something like a 6Bq5 can also be used and actually further improve focus.
Yes the tube is removable via a socket on the pole piece.
These are the drivers used in our reference corner horns. In those cabinets, the bass is simply unreal. No problem staying flat at 40Hz and with weight and control that's unheard of in the single driver world.
---

DFR-65 $355.00 pr.

The DFR-65 (like our DFR-8) utilizes a diaphragmatic suspension that absorbs modal resonance's in the cone better then any other system in use today.
White papers on the DFR-8 fully apply.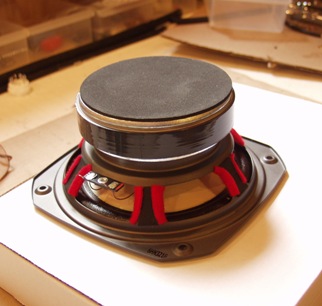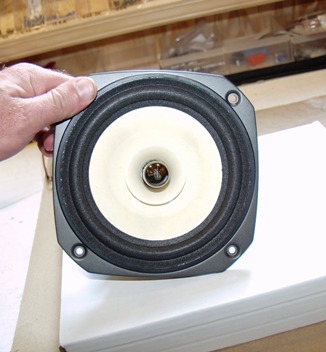 SPECIFICATIONS