REPAIRS OR UPGRADES
IF YOU NEED TO SEND ANYTHING TO DECWARE FOR SERVICE, INSPECTION OR MODIFICATION PLEASE PRINT THE FORM BELOW AND INCLUDE IT WITH YOUR ITEM. IT GREATLY EXPEDITES THINGS. Repairs are always given top priority.

Download and print this: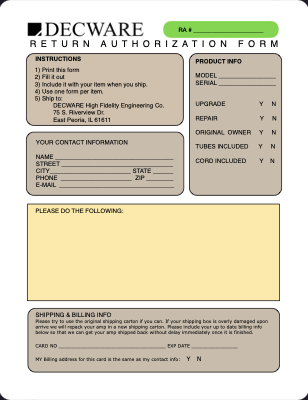 FILL IT OUT AND SEND TO:

DECWARE / High Fidelity Engineering Co.

75 S. Riverview Dr. East Peoria IL 61611

(309) 822 5255
REPAIRS FOR NON-ORIGINAL OWNERS:

Decware is the only authorized repair center for Decware products. Even if you purchased a Decware product used from someone else, this is still the best and least expensive place to have your baby repaired. People who purchase a used Decware product and send it in for repair or upgrades will automatically have the lifetime warranty transferred from the original owner to them at no additional cost.

REPAIRS FOR ORIGINAL OWNERS:

Original owner's of Decware products will have all repairs that were necessitated from defects in material or workmanship covered under warranty. This does not include shipping or new shipping cartons.

WARRANTY:

Warranties are granted to the original purchaser and are non-transferable unless the following procedure is followed:

TRANSFERRING WARRANTIES


A) The original purchaser must send the unit back to Decware.

B) We will unpack it, check for damage.

C) The unit will be disassembled and run through our final QC process as if it were a new product. If any repairs are needed that fall under warranty, they will be done at no cost. If any repairs are needed that do not fall under warranty, the sender (original owner) will be charged accordingly.

D) The unit will be re-boxed and shipped to the buyer as 100% working and to spec.

E) A $100.00 fee plus packaging and shipping will be charged per unit.

F) Tubes must be sent from the original owner to the buyer directly. We will not accept tubes with the product, nor ship those tubes to the buyer, nor be responsible in any way for the performance of said tubes. We recommend the buyer purchase the stock Decware tube compliment when the unit is here for inspection at which point we will ship the new tubes to the buyer.

POLICIES
DEPOSIT: We will charge a $100.00 NON-REFUNDABLE deposit on all amplifier orders at the time of sale. Balance due will be billed when the unit ships.

RETURNS: We will accept returns on tangible items 30 days from date of delivery less a 10% restock fee and any damages to the item.

CANCELED ORDERS: Life happens... if you have to cancel your order no further billing will take place.

CUSTOM ORDERS: If you have configured your order with custom options, the added cost of those options will be billed at the time of order and are non-refundable. Custom options also VOID the 30 day trial but DO carry the lifetime warranty.

LEAD TIMES: All amplifiers/speakers are built to order. Our current lead time is approximately 8-12 weeks from the date of order submission. We have real time build sheets available that you can check any time so see where you are in the line-up and what your present order status is. (The link can be found at the bottom of our CONTACTS page here on the web site.)

You will be notified when your order is ready to ship and updated with a tracking number. Upon receipt of your order you will have a 30 day trial period to make sure you love it.

DIGITAL ORDERS: You will receive an e-mail shortly with links to your downloads.

PAYPAL: Paypal orders are automatically charged in full right away. If choosing to pay by check or money order, payment must be received within 10 business days or your order will be canceled.












Decware is a trademark of High Fidelity Engineering Co.
Copyright © 1996 ~ 2013