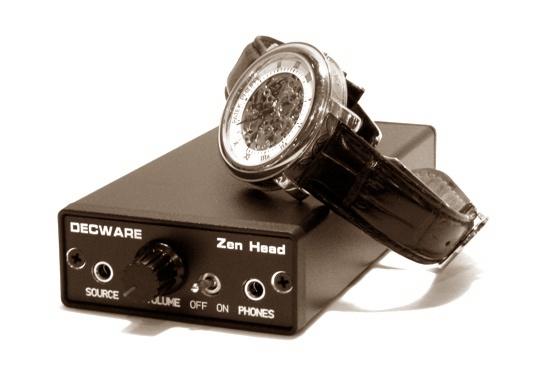 Model No: ZH1 - Zen Head portable headphone amp
Model No.: Zen Head
Replaced a Brand: Headroom
Replaced a Model: Supreme
Years in hobby: 20
May 2009 / Introduction: As someone who engages in a lot of business travel, portable audio is very important to me. I've owned a lot of portable gear. When I read about Red Wine Audio's iMod I got a used iPod Photo on eBay and had the mod applied. That led to the search for a new headphone amp to replace my elderly Headroom Supreme.
Impressions: The Headroom Supreme is a great unit, but it's pretty bulky. And I was tired of sticking phones into my ear canals. The Etymotics and Shures sound great when they're adjusted right, but I found having phones in my head fatiguing. So I wanted to base my new portable setup on the Denon AH-D2000 sealed back headphones which sounded so great at home while being comfortable enough to wear for hours. Now those are bulky! I needed to make whatever room I could in my backpack, if those were coming along for the ride.
It took a long time to make a decision. I looked at all the CMOY DIYs on eBay, I considered a newer Headroom or one of the Ray Samuels units. I had convinced myself I would pick something with rechargeable batteries and a built-in USB DAC when I came upon Decware's eBay listing for the Zen Head. I was immediately intrigued that a designer clearly focused on classic tube sound (which I heartily believe in) felt that he had achieved something close in a headphone amp.
But how could I be considering it? No built-in battery charging, no built-in DAC, and the price seemed high without those features. But I loved Steve's statement in the listing that he "made no apologies" for the price. I just kept coming back to the listing and found myself nodding in agreement with the "simpler is better" philosophy that ran through it. And I could see Steve's enthusiasm and passion to deliver a really great-sounding headphone amp, whatever it took.
In the end I went for it and I couldn't be happier. The sound driving the Denons, with the iMod as the source, is smooth and nonfatiguing without being artificially syrupy. The most important thing is that the sound is, to my ears, harmonically complete. Every other portable system sounds thin by comparison. For me, the word that best expresses the competitors' sound is "threadbare." With this setup and losslessly compressed files, I actually feel like I can hear almost everything that I hear when I listen at home.
Steve is a great designer and is clearly passionate about this hobby. What impresses me the most is that he refuses to compromise. He set himself the challenge of getting truly great sound from a battery-powered portable unit, and he wasn't about to give up. Music loving audiophile will be well served by the fruits of his efforts.
-Greg, Middletown NY