Title: Re: Zbox first impressions
Post by Steve Deckert on 02/11/10 at 18:28:04
---
To answer you question about "how"... it's a lot of different factors, but if we look at just one that's a bit unique to the ZBOX design, it would be the way it handles harmonic distortions.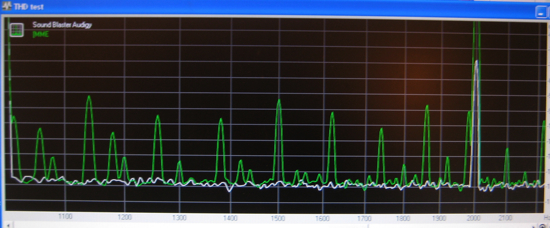 This is a THD plot showing what happens between the 1K test tone and the first harmonic at 2K because thats all that would fit at this level of magnifications.  The same thing is happening all the way up the frequency ladder.

The white line is your typical computer sound card.  The green line is the ZBOX.






If we zoom out a bit, you can see the beautifully spaced harmonics between the fundamental harmonics of 1, 2, 3, 4, 5, 6 and 7kHz. Notice compared to the white line, that the ZBOX buries the peaks so they no longer are heard.


This is of course only part of the story.  Lets look at the typical distortion signature of a single ended triode amplifier and see how the ZBOX compares to THAT signature: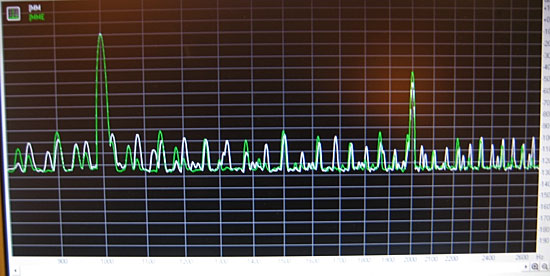 Again, the white is the tube amp, and the green is ZBOX. Now when you inject the green into the white (ZBOX into AMP) the resulting harmonic signature of the amp WILL become modified. Even though all this is going on some -90dB below the music it effects timbre, image density, placement, etc.,