Overview

The model ZCD240 plays CD's, Memory Sticks, Internet Streams and files from your computer over a network. Comes with Remote Control or you can download apps for your smartphone that can be used to access your music library and control the ZCD240 from your phone.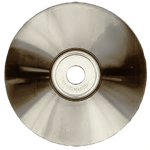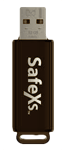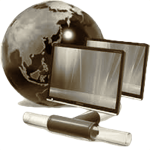 Direct File Playback using DLNA

In addition to CDs, the ZCD-240 supports direct playback of digital audio files over a network. The player accesses files saved on a computer or a NAS drive device on the same LAN. High resolution audio files can be played, including 2.8MHz/5.6MHz DSD or 192kHz/24-bit WAV/FLAC formats. In addition, the ZCD-240 plays compressed audio formats including MP3, AAC, FLAC, Apple Lossless, and Ogg Vorbis formats.

The ZCD-240 supports DLNA for simple setup to media servers on a local network.

* DLNA 1.5 remote playback is supported.
* A NAS device must support DSD files in order to play them back. For details, refer to the operation manual of that NAS device.

Internet Radio Support

Internet radio allows terrestrial radio broadcasts (AM/FM) to be accessed over the Internet. In locations where radio reception is difficult, the ZCD-240 allows you to reliably play stations from anywhere in the world. Using an Internet browser on the network, you can register your favorite stations to the ZCD-240 for easy recall.



USB Support for Flash Drives – On the Front and Back Panel



USB flash drives filled with media can be played on the ZCD-240. There is a jack on the front of the unit for easy access, and a second on the back of the unit for better security when mounted in a rack. Even high resolution audio in 2.8MHz/5.6MHz DSD 192kHz/24-bit WAV/FLAC formats can be played from USB flash drive media.

* The USB port on the back supports the playback of files with resolutions up to 2.8MHz DSD and 96kHz/24-bit WAV/FLAC.





Support for iPhone, iPod and iPad


The front panel USB port allows digital connection of an iPod or iPhone using a USB cable. Play back music in your library at high quality without audio degradation. The USB jack even recharges your device.

* The USB port on the back of the unit cannot be used to connect an iPod or iPhone.


High-quality TEAC-made CD Drive Designed for Audio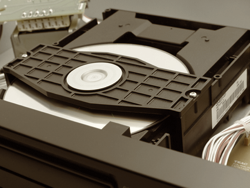 The ZCD-240 uses the same high-quality TEAC-made CD drive designed for audio as other models in the CD-200 series. Developed by TEAC, the CD drive is optimized for audio playback and professional reliability – unlike competing players using computer drives.


CD Player Supports Various Audio Formats

In addition to audio CDs (CD-DA), the ZCD-240 can play data CDs with WAV or MP3 files, even when arranged in folders.


Control the CD-240 from a iPhone or Android app (TEAC AVR Remote)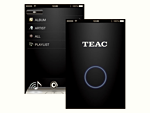 In addition to controlling the ZCD-240 with the beautiful full function remote that is included with the player, there is a FREE AVR Remore app enables operation of the ZCD-240 from iOS devices like the iPhone and iPod touch, as well as Android devices. AVR Remote can be downloaded for free from the App Store or Google Play. Control the ZCD-240 by Wi-Fi from an iOS or Android device on a LAN, including track selection and playback, from anywhere in the facility.

* The device with the remote control app must be connected wirelessly to the same LAN as this unit in order for it to be used.

---

Decware Designed Output stage

It's how you get the Decware Sound from a reliable and affordable platform. Since 2001 we have been offering a CD player with a tube output stage, in fact there has been many. This is the first year we are stepping up our game with the only thing that can sound better, a wide bandwidth transformer design with adjustable output voltage.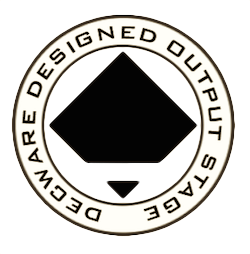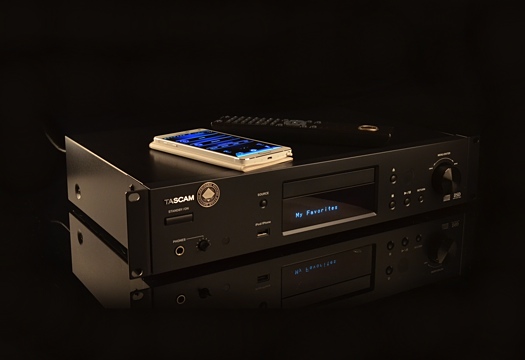 Shown with included full function remote control and free remote app for your smart phone

Sound Quality and Adjustability

All of the above features are pretty meaningless if the unit doesn't sound exceptional!

The imaging and slam is undeniably obvious. Yes, the staging and imaging and detail is as you would expect from a hi-end DAC, but what the ZCD-240 has that most by comparison lack, is BALLS. This has always been the case, even when the output stage was tube, the Zen CD Players have always featured a fully adjustable output that can be turned to many times the industry standard 2 volts. When combined with a preamplifier or amplifier with an adjustable input level, you can adjust the ZCD-240 by ear to achieve the density and drive that sounds best. If your amp doesn't have an input level control, or you don't have a preamp, you can still use the ZCD-240 in a pinch by adjusting the volume via the rear output level control.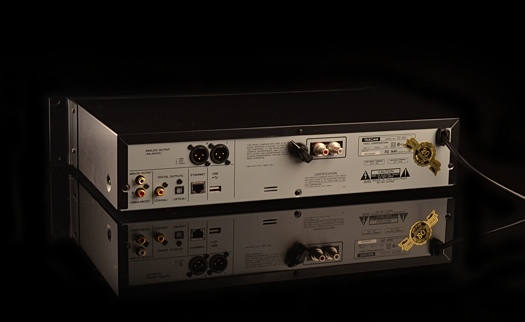 Rear View shows XLR outputs and Decware's transformer coupled silver RCA outputs.

On the rear and somewhat centered toward the top are silver RCA jacks with an output level control that are directly fed from our 95 kHZ wide bandwidth audio transformers. We found this to have many advantages over a tube output stage, the least of which is consistency. The stock RCA jacks were left in tact so that they can be used simultaneously, but more likey we expect they will be used to see what the real difference in sound is between the stock output stage and the Decware Output Stage. A fun experiment to be sure and try!

In addition to the Decware Output Stage, the stock power cord is also replaced with a fully shielded and grounded cord to ensure the lowest noise and cleanest performance.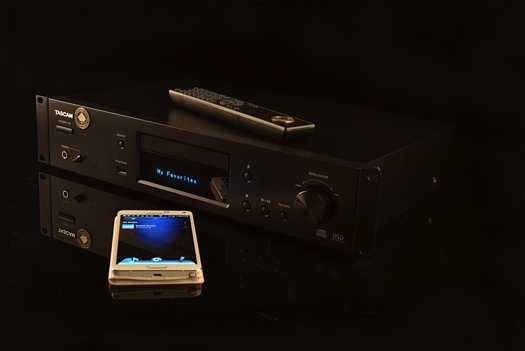 Remote App lets you access your entire music library, and see the album art as each song plays.


Features at a Glance
Direct playback using DLNA – Play files from a computer or NAS device on the same LAN
Internet radio playback
Audio files on USB flash drives can be played back
Made for iPod/iPhone certified for playback from the front-panel USB jack
High-quality TEAC-made CD drive designed for audio
CD player supports numerous audio formats
Ten-second shockproof memory helps prevent skipping caused by vibrations

TEAC AVR Remote app (free download) allows remote control of the unit using an iPhone or Android device
Large knob with push button makes scrolling through tracks quick and easy
Register your favorite Internet radio stations using an Internet browser on the same network
Playback 2.8MHz/5.6MHz DSD files (over LAN or using a USB flash drive)
Playback 192kHz/24-bit WAV/FLAC files (over LAN or using a USB flash drive)
Dim function for display in low-light environments
2 USB ports (A-type)
100BASE-T Ethernet connection
COAXIAL RCA (S/PDIF) digital output
OPTICAL TOS (S/PDIF) digital output
XLR/RCA analog output
Headphones output
Automatic power saving function
EIA 2U rack mount size Compliant with RoHS
Specifications

Specifications for this player's operation are unchanged from the original Tascam model. The only exception is the additional output stage and it's adjustable voltage level from 0 to 7.75 volts.
You can see the specifications for the original Tascam machine here.

Support
This modified in the USA by DECWARE / High Fidelity Engineering C0. It comes with a one year warranty to the original owner.
We also have a support forum with many people who's experiences you may benefit from.

Reviews
You may read
reviews of our products
going back to 1996.