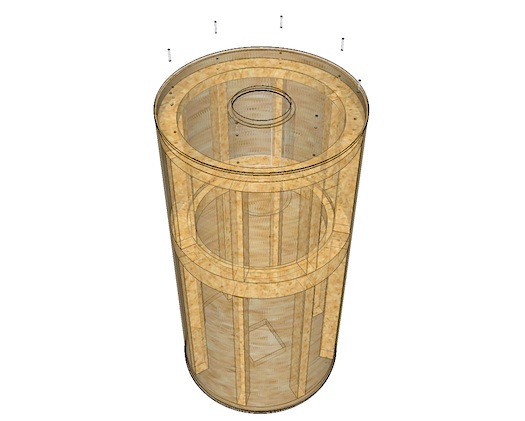 MODEL DTS10A

GET THE PLANS NOW FOR $19.95

Instant Download
View Cart or Check Out
---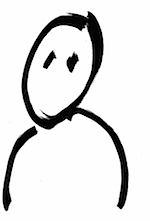 This Decware Tube Sub is an evolution of our famous 10 inch Deathbox. The idea was to make a "round" Deathbox that would fit into more tight places.

The performance advantages of the cylindrical enclosure became obvious right away. After getting the flex of the enclosure walls just right, similar tube enclosures made of thick plastic could no longer compare.
---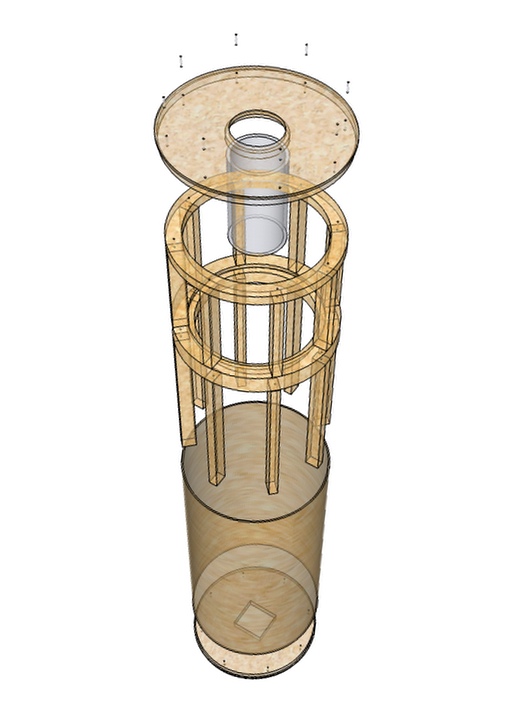 Exploded View of DTS10A
Size 12" diameter x 24.5"
SEE MORE BOX DESIGNS HERE
---
HOW TO BUILD ONE YOURSELF
---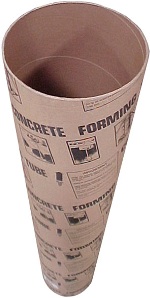 You will be using 12 inch diameter concrete forms for this enclosure.

This design uses concrete forms available at Lowes, Home Depot and most lumber yards.

Once internally braced per the plans, this will actually be stronger than a 3/4 inch MDF box

Download the plans today and for just a few bucks worth of materials you can build this high performance design yourself!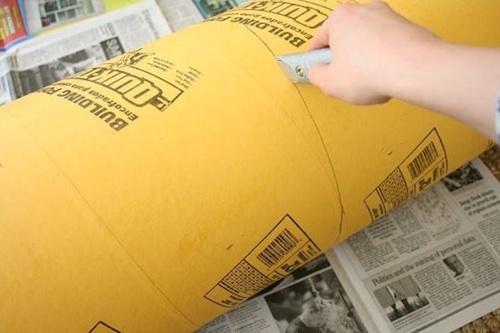 ---
MODEL DTS10A

GET THE PLANS NOW FOR $19.95

Instant Download
View Cart or Check Out
---
SOME PAGES FROM THE PLANS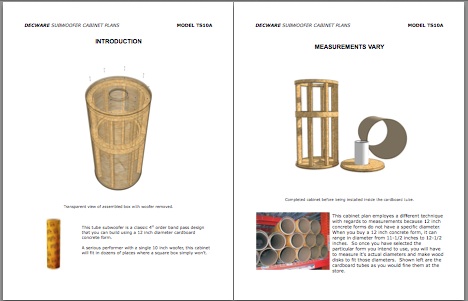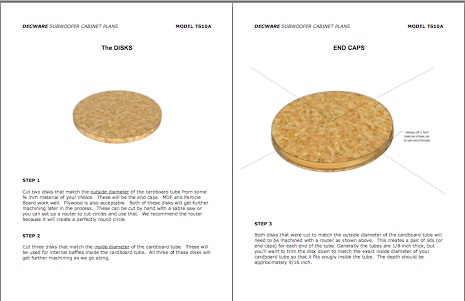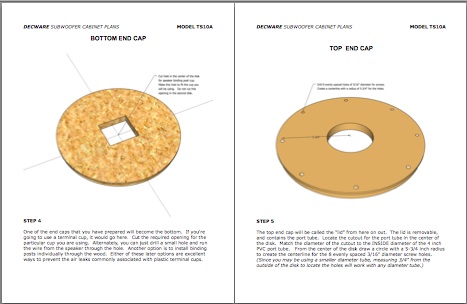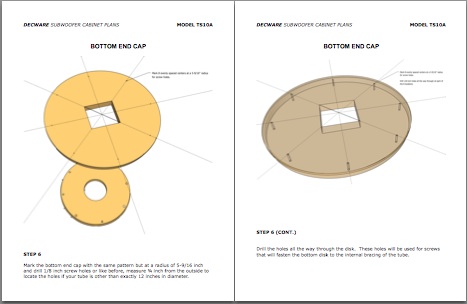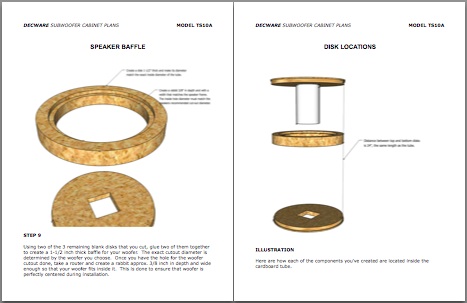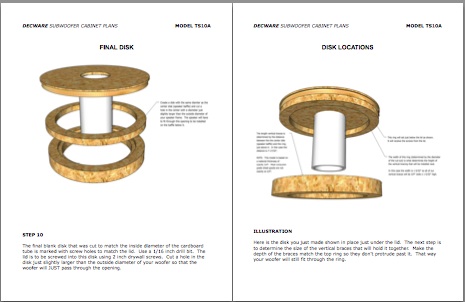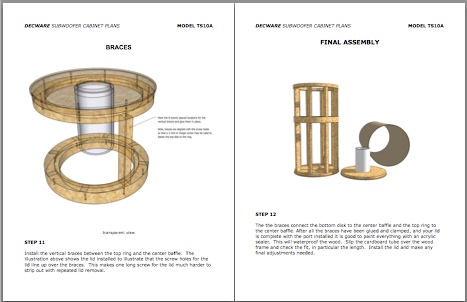 The rest is included in your download.
MODEL DTS10A

GET THE PLANS NOW FOR $19.95

Instant Download
View Cart or Check Out
---
HOW TO FIND OUT IF YOUR 10 INCH WOOFER
WILL WORK IN THIS ENCLOSURE!
If you
want to keep things simple
, then find out if your woofer will work in a
1 cubic foot box. If so, then
it's likely it will work in this design.

If you want to get scientific, then find out the Thiel&Small parameters of your woofer and enter them into the calculator below. This way you can find out how close this design actually will be for a given woofer, AND what adjustments might be needed to make one work that currently doesn't.


---


BOX SIZE
The Decware Tube Sub is a 4th order bandpass design with a total volume of 1.56 total cubic feet. The example above shows that a total box volume of 1.6 cubic feet would be ideal for the particular woofer that is specified. Even though the Decware Tube Sub is only 1.56 cubic feet it is within the 10% tolerance required for best results. If you woofer specs make the calculator want a bigger box, it is possible to increase the length of both the sealed and ported sides of the enclosure to hit that target box volume.


PORT
The DTS10A uses a 4 inch (10mm) diameter port that is the maximum allowable length of 6 inches (14mm). If the woofer specs you type in call for a longer port, you'll have to reduce the diameter until the length is 6 inches (14mm) or less. This is because any port length longer than 6 inches will hit the woofer cone.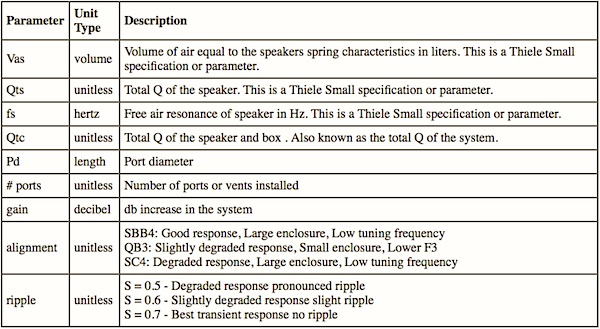 DON'T FORGET TO BOOKMARK THIS PAGE!


If your woofer will work in a 1 cubic foot box, it's likely to work well in the Tube Sub.
USE THIS CALCULATOR IF YOU WANT TO PLOT THE RESPONSE IN THE DECWARE TUBE SUB

By AJ Design Software