NEWS

Decware has become a dealer for this fine loudspeaker from

Turning Point Audio

. These speakers are

hand built

by the same craftsman that build our own speakers, so we don't have to question the quality.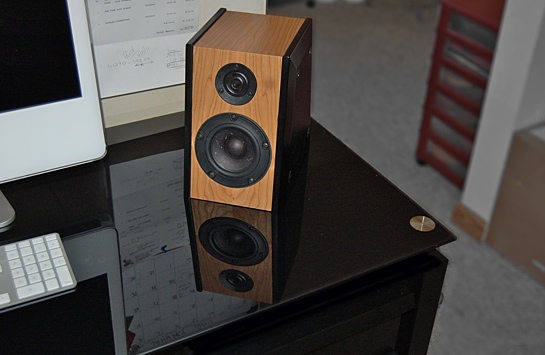 Shown above sitting on the smallest size desktop we could find.







If you've ever wondered what a real audiophile loudspeaker would sound like if you could shrink it down enough to fit it on your desktop...

then add one to the

shopping cart

now - while you can still find out!




These small speakers have been especially designed for your desktop to give you the following:


Reference sound quality similar to the speakers in your listening room.


Great imaging that can make your computer monitor disappear.


No wall effect or boominess thanks to a hidden down firing slot that puts bass on your desktop, not your wall.


Compatibility with any amplifier, tube or solid state.


Efficiency that can easily be driven to loud levels with only 2 watts.


Longevity made possible by real wood cabinets and hi-quality audiophile drivers.


Great bass performance that gives you a full rich sound without having to use a sub woofer!

---

The Trapezium design was the result of lots of testing in the unique environment of the desktop, where often there is a wall directly behind the speakers. The speaker breaks the parallel surface bond between it and the wall with it's trapezoidal shape. This breaks up standing waves both inside and outside of the cabinet to prevent boomy bass and preserve clarity in the mid-range.
The cabinet is designed around this high quality 4 inch wide range driver from VIFA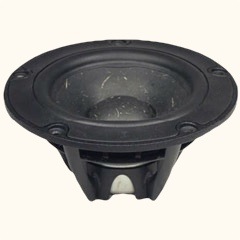 Driver Overview
Vifa's NE Series full-range drivers feature an innovative sculpted, open cast aluminum basket design that minimizes internal acoustic reflections and acts as the neodymium motor's heat sink.
Driver Highlights
Cast aluminum frame acts as a heat sink
Sculpted design promotes cooling and reduces reflections
High-strength compact neodymium motor
Coated natural wood fiber cone with half-roll rubber surround
Pentacone cone technology for improved frequency response
Long-throw voice coil on titanium former
Copper pole piece cap for extended HF response
And this high quality 4 inch wide range driver from VIFA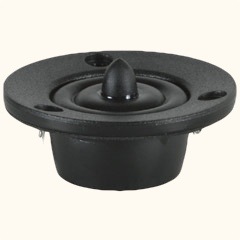 Tweeter Overview
The smaller-sized Vifa XT25SC90-04 features a patented dual concentric diaphragm and a unique waveguide center plug that provide an excellent on- and off-axis response.
Tweeter Highlights

Dual ring radiator diaphragm (patented)
Waveguide center plug (patented)
Neodymium magnet
Flat response well beyond 20 kHz
Low distortion

---

"To test these little jewels I did the same thing I do with all our speakers and took them into our 17' x 27' cathedral listening space, put them on some stands and listened to them.
They were full, rich and glass smooth. The sound was not small,
the imaging was wonderful
and the speakers had no issues filling the room while powered by 6 watts of Single Ended Triode magic. The bass was frankly amazing, no sub needed to make these sound full!
Of course on your desktop, the near-field positioning would make 2 watts more power than you could likely use."



Steve Deckert - owner

DECWARE High Fidelity Engineering
TURNING POINT AUDIO
Turning Point Audio, appropriately named in this time of diminishing expectations, is dedicated to preserving the
Art
and
Old World Craftsmanship
that is the polar opposite of today's mass production.
All TPA loudspeakers are hand made by the same master craftsman
that produce Decware Loudspeakers.
Bob Ziegler






Mike Ziegler





---

89dB with 1 watt at 1 meter
48Hz ~ 22kHz
4 ohm nominal impedance


GUARANTEED SATISFACTION
This loudspeaker is hand built in the USA by Turning Point Audio and comes with a
5 year warranty
and 30 day money back in-home trial! If you're not completely happy with these speakers just return them within 30 days for a hassle free refund less a 10% restocking fee.