T h e Z E N T A B O O UFO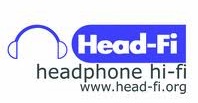 The Zen Taboo has become a popular topic of conversation among head-fi users all over the world... and this was even before we re-designed the amp especially for headphones! It will still power conventional loudspeakers with around 4 glorious watts, so you can use it for either purpose or both!


This incredible new version of our famous Taboo amplifier has been re-designed from the ground up to be simply the world's best, all tube, planar headphone amplifier with fully balanced outputs. We feel confident that there is no better sounding amplifier for such world class headphones as the ZMF Omni's or LCD-2's and similar hi quality planar headphones especially if you have the ears to appreciate it's immense layering - as micro-detail on this amplifier is very rich and fatigue is simply non-existent! Additionally, dynamic phones like HD800's for example also have discovered the magic of a Taboo!

We're certain nothing else can compare because we have developed one of the world's most esoterically simple yet powerfully natural cross-feed circuits for the Taboo called "LUCID MODE". This switchable feature is fundamental to the Taboo design dating back to it's debut in 2004. Our new Taboo UFO has two switchable "LUCID MODES" that take things to a new level that you have to hear to believe, not to mention an ultra hi-res wide bandwidth super refined output transformer!

The Taboo is a single-ended pentode amplifier using the amazingly fast 9 pin output tubes from Russian Radar Video Display called the 6P15P-EV. They have Gold Grids, plated pins, extra thick glass, and extra long life. These tubes are incredibly neutral and extended giving you layers of micro-detail not often heard in bigger tubes... and their affordable.

Besides being able to drive two or more pair of headphones at the same time, the Taboo UFO can also drive loudspeakers or loudspeakers and headphones at the same time.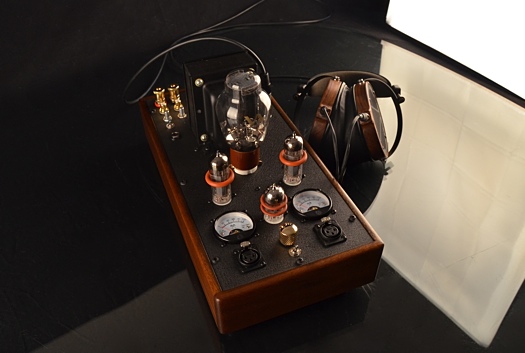 TABOO UFO can operate up to 4 headphones at the same time.



Featuring two pair of inputs and level controls for each channel gives you exquisite and independent control over channel balance for each source, it has a MASTER VOLUME using a Gold contact precision stepped attenuator, four headphone jacks, speaker binding posts and works with both balanced and non-balanced headphone cables.

Internal parts are reference grade right down to the specially selected cryo-treated beeswax and paper coupling capacitors.

Of course like all Decware tube amplifiers, these are completely hand built one at a time by the artists here at Decware using high quality silver bearing solder. No circuit boards in this stuff, strictly old school, guru quality amplifier with a lifetime warranty.

Here's a video of the inside of the Taboo UFO bench sample built by Mr. Deckert himself.


---
---


P U R I S T D E S I G N

The Taboo is a completely purist design with a minimal signal path. Even hook-up wire is eliminated with everything connected parts lead to parts lead. Of course there are no circuit boards and no inexpensive parts. Our amplifiers have proprietary US made power and output transformers of outrageous quality. This is an amplifier that will get the undivided attention of even the sickest audiophiles despite it's extremely modest price!

Recently we added the Hazen Grid Mod to take advantage of the possibilities of the very unique SV83/6P15P-EV type output tubes with the Gold grids and extra thick glass... these wonderful sounding tubes are included with each amplifier. You may watch them age gracefully over a few years as their long life rating suggests. Simply watching the bias meters gives you at-a-glace status of your tubes.

More on the Hazen Grid Technology (also known as the Christmas comes early mod) can be found here and in our forums, here.

And with this most recent and final model, we've added the CKC mod (Christmas Keeps Coming) and dual Lucid Modes, not to mention fully balanced outputs, killer bias meters to show you the condition of your output tube on each channel, balance controls, stepped attenuator, dual inputs, a total of 4 headphone jacks that can be used simultaneously and the list goes on and on...


O R I G I N A L L U C I D M O D E

The Taboo design breaks a lot of rules. In fact that was the whole premise behind it. It clearly lives in the taboo region of amplifier design and is sure raise a few eyebrows from fellow engineers when they study the schematic. Lucid mode is simply the icing on the cake made possible by the floating feedback design. The TABOO has the smoothness of single ended triodes and the spank of lightning fast pentodes giving you the best of both worlds. If you would like to know more about lucid mode, you can refer to the following paper: LUCID MODE what is it? The papers are of course referring to the original lucid mode that was developed for loudspeakers in the 4 to 8 ohm range. The effects of lucid mode change with impedance so when heard on 50 ohm headphones the imaging gets much tighter with a strong center image out in front of the listener rather than inside his or her head. This is a very pleasant way to listen when you're in a non-invasive mood.


N E W L U C I D M O D E

With the NEW Taboo UFO we've kept original lucid mode unchanged and fully in tact. But then we developed a second lucid mode targeted at the 50 ohm range of headphones like the LCD-2 that would work in harmony with the first. Since the first lucid mode is almost like listening in mono, the second becomes a dynamic expander that explodes the size, width, depth, and scale of the music making it instantly engrossing. When both modes are used together, the amount of detail retrieval from your recordings is simply unbelievable. In fact, we should have called it the "wow" switch because that's what everyone says when they hear it.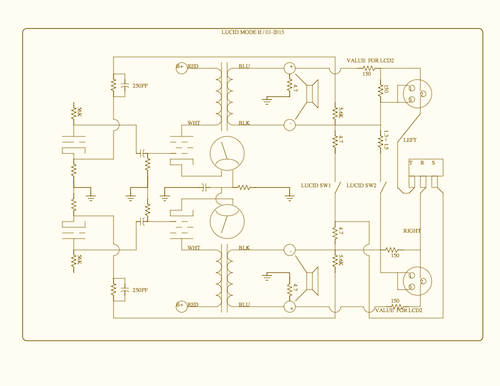 Hearing the Taboo's Lucid Mode can be done on the fly while you listen via a nice pair of silver switches. When you hear it, you'll wonder how such a transformation is possible without a DSP (Digital Signal Processor Chip) yet it's as simple as manipulating the phase angles between channels at different frequencies in this well thought out design that lets you hear so much more into the recording than normal amplifiers.


T U B E S

The stock configuration is a 6922 (6N1P) driving a pair of EL84 or SV83 (6P15P-EV) output tubes. The rectifier is a 5U4 but you may substitute 5Y3GT, 5AR4's or the new Valve Art 274B. You can expect over 6000 hours of pristine fidelity from the included 6P15P-EV tubes. Because this amp has the Hazen Grid Mod that activates only when SV83 (6P15P-EV) output tubes are used, we ship the amp with the best mil spec 6P15P-EV's made. These are Russian New Old Stock tubes with Gold grids, extra thick glass, plated pins, and tested in your amplifier. All tubes come with a 90 day warranty.


S E L F - B I A S I N G

The amplifier is self biasing so you NEVER have to set or adjust the bias for the output tubes. If you've ever owned an amplifier that you had to bias all the time you'll completely appreciate this design. The meters show you the condition of your output tubes and how well they match.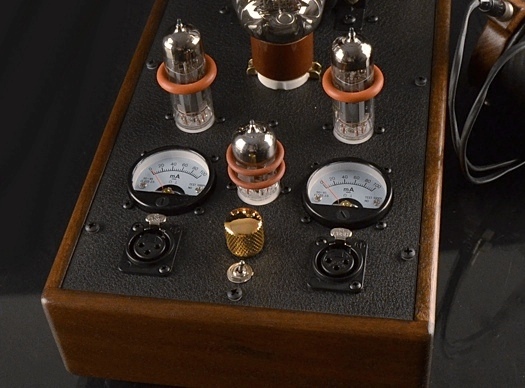 Along with two regular 1/4 inch headphone jacks, fully balanced XLR outputs
are also included in your choice of 3 pin or dual 4 pin jacks.

---


C U S T O M O P T I O N S

Since the chassis was designed to accommodate additional jacks and even another tube if needed, the following options are available:

Choose your own look with different wood bases

Choose 3 or 4 pin XLR jacks to fit your particular balanced headphone cable
Choose either black or gold knob

Additional Options can be selected and changed in the shopping cart.


---

Z M F H E A D P H O N E O P T I O N

Some people just want a perfect match that has been well tested to take all the guesswork out of selecting a headphone system. You can now order your Taboo WITH world class planar headphones that perfectly match and take full advantage of BOTH lucid modes on the amplifier.






ZMF headphones are made in the USA and are recommended by Decware as a complimentary sonic match for the Taboo and by far the world's most comfortable headphones you've ever worn in your life!




---

I D E A L S P E A K E R S

When using loudspeakers with the amplifier, 8 ohm speakers will play slightly louder than 4 ohm speakers. Desktop use works with virtually any small monitors, larger listening room use is best suited with speakers that are 94dB or higher.

C A B L E S

This amplifier is so transparent that differences between cables will now become big differences. If you don't have good interconnects or speaker cables or just not sure how good yours are... we offer reference quality cables that will let you hear its full potential. It is important to us that you hear what your new amp is capable so we offer the same silver cables that we built and use personally

S U P P O R T

This amplifier is hand built in the USA by DECWARE / High Fidelity Engineering C0. It comes with a lifetime warranty to the original owner. If you purchase one second hand and ever have questions or technical problems we WILL be happy to check it out for you and service it if needed for a very reasonable rate.

We also have a support forum with many people who own this amplifier who's experiences you may benefit from.

R E V I E W S

You may read reviews on this amp going back 10 years.



---
H I S T O R Y o f R E V I S I O N S





SE84T / Manufactured from 2004 to 2006

The original Taboo as reviewed on 6-Moons featured a simple steel chassis and variable feedback controls.





SE84TS / Manufactured from 2006 to 2009.

The second model featured an upgraded chassis, and removal of the variable feedback controls with the addition of both direct and variable inputs.






SE84TS+ / 2009 to 2012.

The same model but with the Hazen Grid Mod and upgraded coupling caps. Optional headphone jack.



TABOO MK III / 2013 to present.

Redesigned from the ground up to be a planar headphone amplifier that will also drive loudspeakers. Balanced Outputs.


TABOO UFO / 2016 to present.

Upgraded with UFO wide bandwidth ultra flat output transformers. 10 Hz ~ 80 kHz response with incredible micro-detail. Simply untouchable sonic's!
---
S P E C I F I C A T I O N S
This amplifier requires no adjustments or maintenance other than changing tubes every couple years. It is a self biasing design and self balancing meaning even unmatched tubes become matched when installed. The SV83 (6P15P-EV) or EL84 output tubes were chosen for their sound quality over all other pentodes - price was not a factor.
Weight

17 lbs. ea.

Dimensions

8.5" H x 7.25" W x 14..75" D

Chassis

Steel/Wood

Finish

Black Powder Coat Typewriter Finish


Base

Solid hardwood / user interchangeable

Circuit type

Single ended Class A Pentode

Input voltage

2.1 volts for full output

Noise / Hum

< 1 millivolt

Response

10 Hz ~ 80 kHz

Rectification

5Y3GT / 5U4 / 5AR4 tube rectification

Output tubes

SV83 or EL84 / 6BQ5

Signal tube

6922 / 6N1P


Transformers

All transformers are custom made for this amplifier by Decware

Biasing

Self-Biasing circuit - never needs adjustment

Resistors

All resistors are precision WW/MF by DALE, VISHAY

Signal Cap

Audiophile grade Cryo Treated Beeswax Paper Foil


Filter Caps

Premium grade 500V electrolytic's

AC cord

Fused IEC connector provided with removable power cord

Consumption

75 watts at full power

Input jacks

RCA type 24K Gold / Teflon

Output jacks

Gold 5-way binding posts accept 8 gauge wire

Warranty

Lifetime to original owner / 90 days on tubes
HEADPHONE IMPEDANCE
POWER
OUTPUT

4 ohms

500 mw

8 ohms

1000 mw

16 ohms

1200 mw

24 ohms

1500 mw

32 ohms

1600 mw

50 ohms

1700 mw

75 ohms

1700 mw

100 ohms

1700 mw

150 ohms

1700 mw

250 ohms

1700 mw

300 ohms

1700 mw

600 ohms

1700 mw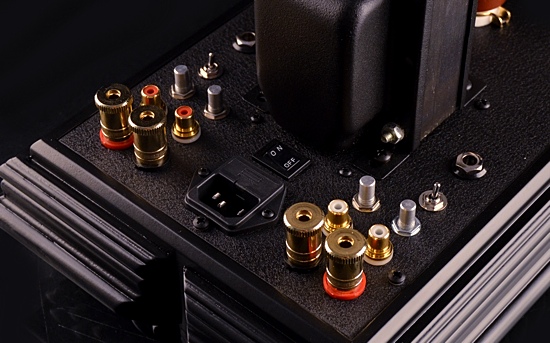 REAR VIEW

Showing speaker jacks, RCA inputs, Input level adj, lucid mode switches,
TRS headphone jacks, one per side.


---


V O L T A G E S

This amplifier comes standard with our World Voltage Compatible Transformer. Your amp will be automatically wired for the correct voltage for your country and be supplied with the correct removable power cord.


D E S I G N N O T E S



Some of the original TABOO Design notes still apply.


O W N E R S M A N U A L


Taboo MK III - Owners manual.pdf




---
F E A T U R E S

SINGLE ENDED DESIGN - One output tube per channel running in class A. The benefit of this is in the detail. Multiple tube designs are never quite as transparent as a single tube.

NO CIRCUIT BOARDS - Wired point-to-point with parts leads and no hookup wire. The benefit of this is better sound combined with reliability that is so great we offer a lifetime warranty.

SMALL OUTPUT TUBES - Uses your choice of EL84/6BQ5 or SV83/6P15P output tubes. The benefit is these tubes have better speed and neutrality than the pricey alternatives.

VOLUME/GAIN CONTROL - Front mounted gain control makes it possible to use this amp without a preamp OR allows the input sensitivity to be adjusted to achieve optimal matching with any preamp. Comes with a Gold Contact Precision 20 pos Stepped Attenuation.

GOLD/TEFLON INPUT JACKS - Rear mounted, high quality RCA jacks are wired with Silver/Teflon wire to support even the most expensive interconnect cables.


DUAL INPUTS - Run two different sources switchable through a silver selector switch.


ADJUSTABLE INPUT LEVELS - independent input level adjustment for all 4 channels.


DUAL 1/4 HEADPHONE JACKS - located on each side and can be used at the same time making it possible for two people to listen.



XLR BALANCED OUTPUTS - available in either 3 or 4 pin XLR to accommodate different types of balanced headphone cables.


FLIPPED OUTPUT JACKS - The top mounted speaker binding posts are flipped so high dollar speaker cables lay out correctly without one being twisted. These accept banana jacks, spades, or bare wire up to 8 gauge.

BIAS METERS - Supplied for each output tube, the meters show how many milliamps each output tube draws. A great indicator of the condition of the tubes and how well they match.


USA MADE CUSTOM OUTPUT TRANSFORMERS - The Taboo features proprietary wide bandwidth, ultra flat UFO output transformers made in the USA.

SELF BIASING - That's right, you never have to adjust the bias of the tubes. The benefit is that it takes all the hassle out of owning a tube amp, and allows you to run non-matched tubes not to mention ensures the best possible sound quality throughout the life of the tubes.

TUBE RECTIFIED - Designed around the 5Y3GT rectifier and similar types. The benefit is reliability. With solid state rectification voltage spikes can damage the diodes ensuring an eventual trip back to the shop for repair. Tubes are MUCH harder to damage and if one ever did fail, you could change it yourself in seconds and be back in business. It is also no secret that tube rectification generally sounds best - especially in the mid-range.

REMOVABLE POWER CORD - Uses standard fused IEC connector with hidden spare fuse. The benefit is when you move your amp, all cords simply unplug from it. Also allows you to use aftermarket boutique cords even though a good power conditioner/isolation transformer would have a far greater effect.

WORLD VOLTAGE COMPATIBILITY - Our power transformers are also our own built to very high spec here in the USA and have less then 0.5% failure rate in our amplifiers. This amp comes standard with a world voltage compatible transformer that can be wired for any country on the planet.

SINGLE TUBE INPUT STAGE - We use a single 6922 dual-triode to drive the output tubes to ensure the exact same signature on each channel. The signature of this tube is the perfect compliment to the pentode wired output tubes and 6922's are one of the most popular signal tube in the world. Since tube rolling is a fun way to personalize the signature of your amp, you will enjoy knowing there are more different brands and types of 6922 than almost any other tube. We ship the amp with the Russian NOS 6N1P-EV which is a warmer equivalent of the 6922 and of premium quality.

HIGH MASS CHASSIS - Hi density chassis adds 3 more lbs of mass and features a powder coat black typewriter finish in a solid walnut base. Bases are interchangeable with other hardwoods.

SEALED CONSTRUCTION - No ventilation is used because it's not needed. The benefit is that no dust, smoke, or other contaminants get inside to contaminate parts and solder joints. The internal wiring and parts look new even after 30 years of use.

ORIGINAL CIRCUIT DESIGN - This amp is not just another knock off of some vintage amp from the 60's. The development of this circuit was done from scratch and with great care. Designed to take the magic of our Triode amps to the next level.

OPTIONAL MATCHING PREAMP - We have a matching preamp that is very synergistic and transparent with this amplifier. It is our model CSP2+

ULTRA LOW NOISE - Less than 1 mv of noise and hum (usually 0.4mv). The benefit is ultra black backgrounds and inaudible hum on even the most efficient ear speakers.

MULTIPLE SIGNATURES - Like having two or three different amplifiers at the flip of a switch. Go between "Standard" and "Lucid" modes, balanced and unbalanced, and even roll tubes
---
NOTICE
COMPARING THE CURRENT TABOO TO PRIOR VERSIONS
The older (white) taboo that this model replaced was priced at:
$1395.00
With upgraded signal caps
$200.00
Stepped attenuator
$250.00
Planar Headphone mod / 1/4 inch jack

$100.00

---

---

Total Cost for fully tweaked Headphone Use
$1945.00

The new Taboo Mk III costs $150.00 less at:



$1795.00
And comes with everything listed above.





In addition the following items are also included free:

Fully Balanced dual XLR jacks for balanced headphone cables.
2 pairs of inputs and a silver input selector switch.
Variable input level controls for all 4 channels.
Dual 1/4 TRS headphone jacks, one on each side.
The new lucid mode - sound stage expander.

High Mass Steel upgrade for lower micro-phonics.
Conversion to the better sounding 6922/6N1P/6DJ8 front end.
Higher input sensitivity for better performance without a preamp.
Ultra cool bias meters, one for each output tube
Upgraded Coupling Caps (Cryo Beeswax HT Silver Lead)






NOTE: 4 Pin XLR option adds (dual 3 pin is standard)

$50.00

The Taboo MK III comes standard with Cryo Treated HT Beeswax signal caps with silver leads made by Jupiter Condensers. We find them to have similar resolution and a more organic sound when compared to VCAPS. However, due to years of popularity in the Taboo we felt it wise to continue to offer VCAPS as an alternate cap upgrade in the Mk III .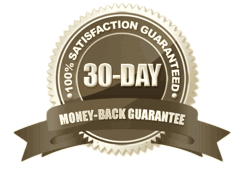 We offer this amp with

a 30 day money back trial


so you can
hear one in your own home!
Available in 120 or 240 volts.