Each Mystery Amp is hand built right here in the USA by Decware and has been hand voiced and matched down to the finest details.

The fidelity of these amplifiers catch most audiophiles off guard...

Then their faces start to hurt from smiling so big!


The Mystery Amp easily sets a benchmark for liquidity... which is quite a feat considering it's unheard of level of detail. With a power supply design like no other, a biasing system that leaves other amps behind and a circuit design that has evolved over 15 years of production, it's only limitation is the source. In fact I didn't realize how good this amp actually was until we heard it on 24/384 hi-res material. It also widened the gap between my various phono cartridges. My favorite, the Fidelity Research with the Van Den Hul tip never sounded better. I consider this amp our greatest achievement to date. Yes, we achieved this in our signature mono's but to do it with equal finesse for half that price... we'll it makes my face hurt too, from smiling so big.


The Zen Mystery Amp is for People who want MORE than to just hear the music...

they want to float in it!



Steve Deckert - owner
DECWARE High Fidelity Engineering

40 watt class-A mono-blocks.
Transformer Balanced XLR Inputs - optional.
Single-ended RCA input.
Input level control.
Ultra cool bias adjustment - no tools required and can be done on-the-fly.
Large Bias Meters - let you maintain PERFECT tube matching without effort.
Exotic parts - cost no object design.
KT66 Ultra-linear output stage.
These amps can run speakers between 4 and 16 ohms.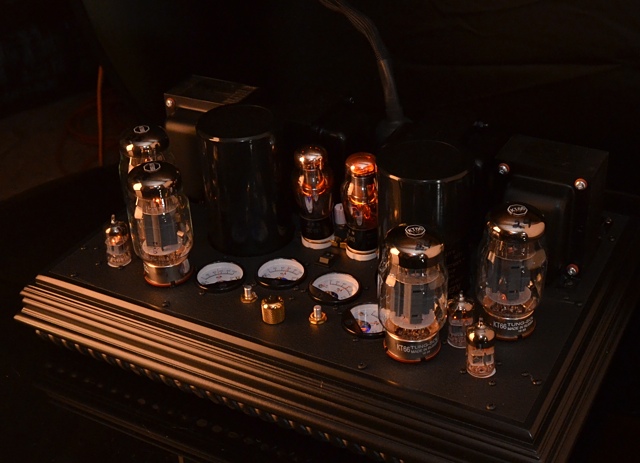 One of the things that makes the Zen Mystery Amp unique is it's insane power supplies.

A typical tube amplifier this size uses power supply capacitors totaling about 80 micro-farad.

The Mystery Amp has 4500 micro-farads. Yes, that's about 50 times more than normal but we did mention that this was a cost no object design and the massive capacitors come with some huge sonic benefits. Each amplifier's power supply has enough stored energy to start your car and melt all four tires to the garage floor!

In fact, these capacitors are so large that the amplifier sounds as if it's being run on batteries.

---


You can select from the Black Figured Base (shown at the top of this web page) OR the Contemporary Style Walnut Base (shown above). Different woods can be selected from within the shopping cart. The Black Figured base is only available in Black.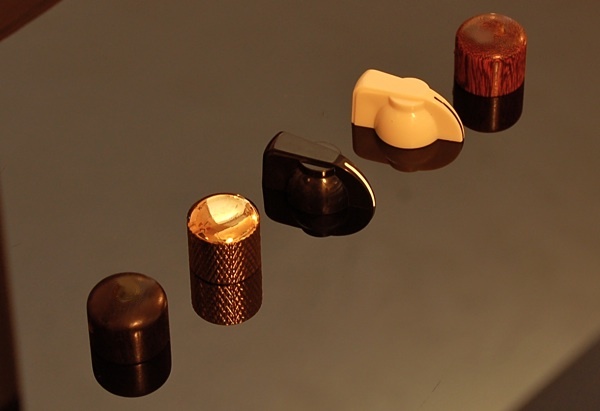 There are also some knob choices. From left to right are Ebony, Gold, Black, Cream, Walnut. You can configure your amp with the knobs you want from within the shopping cart.








The Mystery Amp comes standard with a single pair of single-ended RCA inputs. You may optionally have your amplifier configured with an additional pair of fully transformer balanced XLR inputs from within the shopping cart.


We carefully hand select and match the tubes for these amplifiers. The amplifiers are tested and burned-in with the tubes you get.

These include four Russian Military Grade 10,000 hour 6N23P-EV's with gold grids, four KT66's and two OA3's per amplifier. (Note the amplifier is also compatible with 6N1P / 6922 / 6DJ8 as well as KT77, EL34, 7027, 5881)


---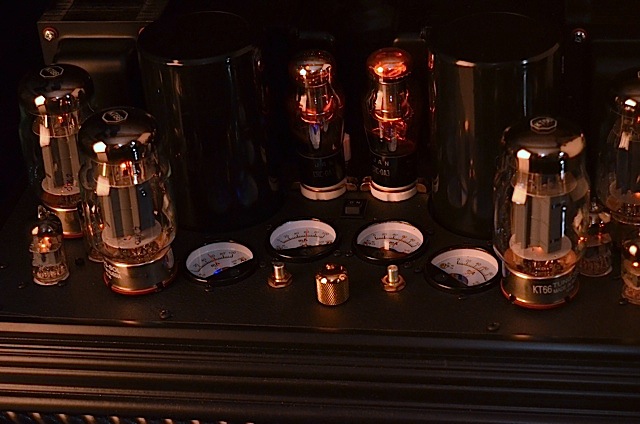 The Mystery Amp has 4 independent bias supplies and 4 precision current meters, one for each output tube so that adjusting one has zero effect on the others!
It gives you a real time view of how each tube is doing and how well they match each other.
A simple balance control between each pair of meters lets you match the tubes at any time while the amplifier is on.
The meters also show you if a tube goes bad and which one - at any power level.
A great power indicator, the meters dance when the amp reaches maximum output.
True Analog movements in each meter make it possible to predict tube performance by simply watching the meters behavior during warm up.
---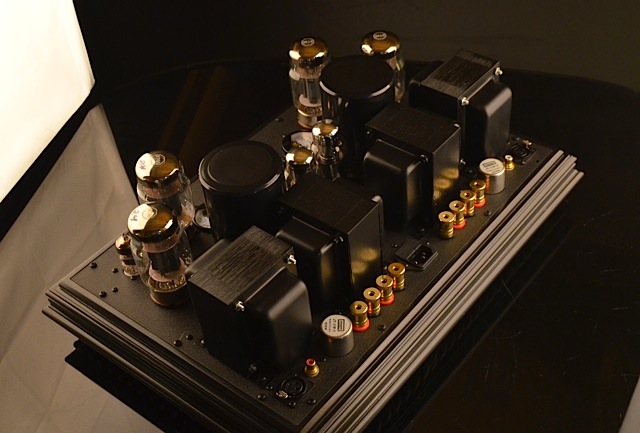 DESIGN NOTES:

The Mystery Amp came directly from our signature Zen TORII mono-blocks. We wanted something with similar performance, but in a single chassis and at a reduced cost. By building two mono amps in a single chassis, eliminating the fancy transformer covers, reducing the power a bit, using smaller meters and finally by making balanced XLR inputs optional ~ it was possible to maintain the same cost no object design and internal parts used in our $12000 mono-blocks.

The Mono-blocks are unique in that they have a massive power supply with caps so large it is possible to eliminate the choke and any dropping resistors feeding the output stage. Unless you see an amp with similar size caps, you can be certain that it has at least one if not both of these current limiting necessities. This is why the Mono's sound better than almost everything. Well, on that note, the Mystery Amp explores this zen approach a little further by doubling the capacitor size and eliminating the dropping resistor that feeds the input stage. Instead a vacuum regulator tube was used to drop the voltage with no heat and 20 times the ripple rejection of the resistor it replaces. This was a personal goal of mine because it makes this the first tube amp power supply in the world that doesn't use a choke or any current robbing resistors to supply both the input and output stages of the amp. Consequently there is no heat or parts to fail. The real impressive part however is the liquidity and speed that results from eliminating these parts.

This is about as close to pure DC power as you'll ever get in a 500 volt amplifier. As a result, the Mystery Amp will have about 50 times the immunity to dirty power from your wall outlet.

The other nice thing about this amplifier is how it handles the output tube bias adjustments. We've all seen tube amps that have blown up due to "bias runaway" when the plate inside the tube gets red hot and causes the tube and sometimes the amp to fail. This happens because many amplifiers share a bias supply between more than one tube. Setting the bias wrong, or using mismatched tubes can trigger this event. It's a big reason people who like cathode biased amps, like cathode biased amps better than fixed bias amps. Anyway, an adjustable fixed bias amp can actually be as reliable and sound as good or better by simply doing it right. In the Mystery Amp, I created independent bias supplies for each output tube so that when you adjust one tube, it does not effect the other tubes. That way you only ever have to adjust it once, instead of ten times until you happen to hit it just right. Also a lot of time was spent defining windows of adjustment that worked with all the recommended output tubes without allowing the user to get into too much trouble should he/she miss adjust it. In fact, most of the time it will impossible to get into trouble ensuring long happy tube life. The biggest thing is output tube matching in push pull amplifiers for linear output and max power, so to that effect rather than have a bias adjustment for each tube, we have one for the pair and one as a balance control located between the meters so that the user can perfectly match the meters at any time in less than a second. Each channel is set up this way. You'll find this handy since tubes drift with temperature and we don't really know of any other amps than can be adjusted on the fly as you listen without tools or with this level of speed and precision. It takes all of the pain in the ass out of owning a fixed bias amplifier. Of course the meters make great tube testers and clipping indicators allowing you to see if any one tube is prematurely clipping relative to the others despite being perfectly matched at idle.

The voicing on this amplifier is more particular than anything I've done, short of the TORII Mono's. I say that because I have a very strong preference for the 6N23P input stage as that is the only tube I like in this amp. Cryo-treated with silver leads, and flat stacked beeswax film caps are used for all internal coupling, and 2 watt carbon composition resistors throughout the signal path. Factory Tube compliment is the Tungsol KT66, and OA3 and for the driver stage a pair of Russian 6N23P-EV.

Another delightful thing about this amplifier is that is has zero negative feedback so the imaging and sound stage depth are un-restricted and capable of rending whatever is on the recording.

In the end, it is every bit the fidelity and performance of the Zen TORII Mono's with a bit sweeter top end. On most speakers greater than 86dB there was no noticeable difference in power between the Mystery Amp and the Mono's.

The OA3 feeding the input stage combined with double the capacitance of the Mono's gives the Mystery Amp unparalleled accuracy and liquidity.

NOTE: There is also a forum thread on the Mystery Amp that I started early in the design process.


-Steve Deckert



---

120/240 volt 50/60Hz

OPERATION: CLASS A1
INPUT TUBE CHOICES: 6N23P, 6922, 6N1P
OUTPUT TUBE CHOICES: EL34 6CA7 KT77 KT66 7027 5881

INPUTS: OPTIONAL TRANSFORMER BALANCED XLR INPUTS

INPUTS: SINGLE-ENDED RCA INPUT

OUTPUTS: 4, 8, or 16 OHM SPEAKERS
IDLE CURRENT: 40~60 MILS PER OUTPUT TUBE - ADJUSTABLE

HIGH B+ VOLTAGE: 410 VDC WITH LOAD

INPUT IMPEDANCE: 100 K OHMS
INPUT SENSITIVITY: FULL POWER @ 2.0 VOLTS ON RCA INPUT

POWER INTO 4 , 8 or 16 OHMS: 38 WATTS PER CHANNEL
NOISE: -90dB
PRECISION CURRENT METERS 0 to 100 MA

WINDOWED BIAS CONTROL to ADJ OUTPUT TUBES
DYNAMIC BIAS BALANCE CONTROL FOR PERFECT MATCHING of EVEN UNMATCHED TUBES

600V CRYO TREATED FLAT STACKED COPPER FOIL BEES WAX - SIGNAL CAPACITORS
20 POS STEPPED ATTENUATOR w/ GOLD CONTACTS for INPUT LEVEL (GAIN) CONTROL
4400 UF 500V LABORATORY GRADE POWER SUPPLY CAPS

TOP GRADE GOLD TEFLON INPUT JACKS

RECTIFICATION: ULTRA FAST RECOVERY 3 AMP 1000V

MACHINED STEEL CHASSIS with POWDER COAT LIFETIME FINISHES
TOP GRADE FUSED IEC CONNECTOR for REMOVABLE POWER CORD
SOFT START- NO STANDBY NEEDED

SHIPS WITH:
PREMIUM GRADE KT66 OUTPUT TUBES
PREMIUM GRADE 6N23P INPUT TUBES
OA3 REGULATOR TUBES

SIZE: 19-1/8 " DEEP x 13-3/4 " WIDE x 8-3/4 " HIGH
NET WEIGHT: 43 lbs.
WARRANTY: LIFETIME TO ORIGINAL OWNER / 90 DAYS ON TUBES
ZEN MYSTERY AMP
OWNER'S MANUAL