OVERVIEW



The
Decware Mini's, aka Model DM945's are small bookshelf speakers designed around the unique properties of the Silver Flute 8 inch wool cone drivers. Unique because they require one of the smallest enclosures for an 8 inch woofer anywhere in the world. Unique because they are an honest 94dB efficient with a single watt of power. Unique because they have nearly flawless frequency balance out past 6kHz with no crossover of any kind. The result is simply unbelievable performance that trounces many floor standing speakers 3 times their size!

The top-end is handled by a superb isodynamic planar ribbon tweeter. The vertical and horizontal dispersion is so good these speakers often end up in studios as near field monitors, yet their biggest market is serious audiophiles who stand mount them in large rooms.

This is an ideal speaker for lower power tube amps, in fact our 2 watt SET amp drives them with authority and weight.



DID YOU KNOW

That almost all bookshelf speakers this size are less than 90dB efficient? In fact most hi-end bookshelf speakers are between 84dB and 86dB which eliminates any possibility of using them with low power tube gear... of the ones that are somewhat more efficient you'll almost always find smaller drivers, ie., 4, 5 or 6 inch that don't have enough real base to be fully satisfying.

The Decware Mini's are a rare exception to these design limitations. They give you the sound of a large speaker in a very small space and at an efficiency that will make even small amps sound big.


GRILLS

The ultra clean look of this speaker comes in part from the hidden neodymium magnets in the grills and in the cabinets. Impossible to break off and always work perfectly no matter how many times you take the grill on and off.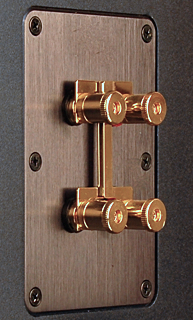 HARDWARE


Machined and anodized, these thick aluminum plates are hosting top-end binding posts to virtually eliminate the flex and vibration associated with standard speaker terminal cups. You can't wear these out or break them off even if you use the most aggressive over-sized speaker wires.

Gold jumpers are included, that if removed will allow you to bi-wire or bi-amp this loudspeaker.

All internal wire is oxygen free copper with silver solder. There are no crimp connections anywhere.












SPECIFICATIONS
94 dB with 1 watt at 1 meter
42Hz ~ 22kHz
4 ohm nominal impedance
Crossover - 6dB Clarity Cap on Ribbon only
2 ~ 25 watts continuous, 100 watt max
Max SPL 112dB
Size 9" wide, 10" deep, 16" high
Neo Magnetic Grills
Dual 5 way Gold binding posts
Shipping weight 25 lbs ea.
30 day money back trial

OPTIONS

These fine speakers use the finest components available and no further upgrades are available or needed.

STANDARD FINISHES

The Decware Mini's come in natural Cherry with a furniture grade lacquer finish. The cherry darkens with age... usually up to 4 shades over the course of a few years and then stays that way. We only offer this speaker with a 30 day trial in the standard Chery finish which makes this incredible price possible.

CUSTOM FINISHES

The DM945's can be custom built to order with exotic woods of your choice for an additional fee and no option to return. The pair pictured below added close to $500.00 to the price, but price varies widely due to the availability and types of exotic woods. If you want a custom pair of DM945's please e-mail us for a quote and mention the finish you're after or better yet send a picture of something made from the wood you like so we can see the finish. Custom DM945's may become unavailable at any time.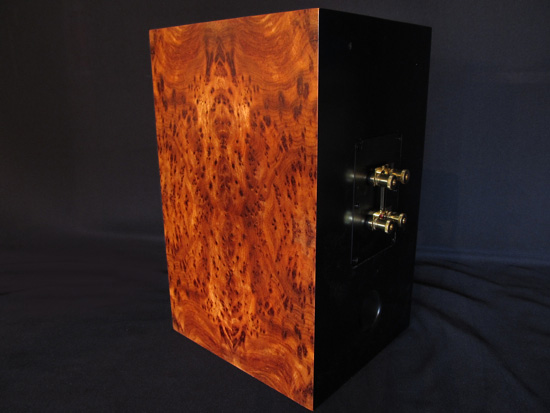 ON THE SOUND & PERFORMANCE

These speakers are at home as near field monitors on your desktop or studio console. And of course they also excel as stand mounted speakers in your listening room, with a huge tangible sound stage and believable speed and dynamics that set Decware speakers apart from the main stream. The wool cone 8 inch driver gives stunning weight behind a glass smooth mid-range and this is complimented by the air and shimmer that is only found in ribbon tweeters. This speaker leans just slightly toward warm, however the bass is as tight as a brick and can not be flustered even with Hip Hop bass lines. Female vocals are sublime and have excellent depth and are never

in your face

or

pinched sounding

like so many high efficiency speakers tend to be.




HISTORY OF REVISIONS



The original model DM944 - Released in 2002

Originally designed as a high value budget speaker, it's performance and popularity over the years practically demands that we take it more seriously, and we did. A large list of upgrades starting with a new cabinet went into it's replacement - model DM945.






SUPPORT
This loudspeaker is hand built in the USA by DECWARE / High Fidelity Engineering Co. It comes with a 5 year limited warranty to the original owner.
We also have a support forum with many people who own our speakers who's experiences you may benefit from.


REVIEWS
You may read
reviews on our products
here.