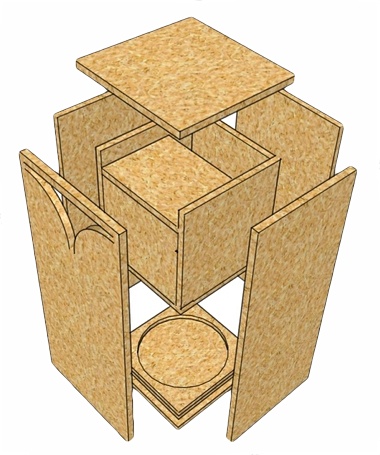 12 INCH DEATHBOX

Model DBK212
Size 14" x 14" x 32"
GET THE PLANS NOW FOR $19.95

ADD TO CART
View Cart or Check Out
SEE MORE BOX DESIGNS HERE
---

INTRODUCTION - Model DBK212

NOTE: Works with 1 or 2 twelve inch woofers.



This is the correctly designed way to scale up our famous 10 inch Deathbox for use with 12 inch woofers. As you can see it is not scaled at all, but a different design using the same technology. This maintains the killer ratio of Size vs. Bass Output that makes the design so successfull. The difference between this 12 inch Deathbox and the 10 inch is increased low bass extentsion and SPL. After all if you're going to try to scale up a 10 inch Deathbox you have to get something in return for that extra space!



Like it's little brother, the new 12 inch Death Box is easy to build. It has a self sealing lid eliminating the need for gaskets. Designed for compound loading of two 12 inch subs, it features a removable insert making it easy to install the woofers, and tune the box. And of course don't forget, the DBK212 will work with most car audio 12" sub-woofers* and can be tuned AFTER BEING PLACED IN YOUR CAR!

*Free-air woofers excluded
TRANSPARENT FRONT VIEW
if it were standing up...
unit can be run on it's side also.

REMOVABLE BAFFLE ASSEMBLY
can be slid up and down inside the box letting
you tune it by ear while music plays.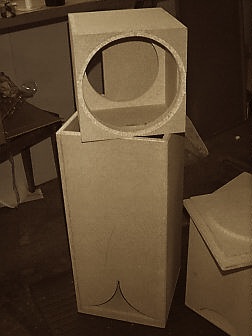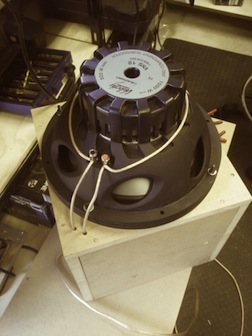 The picture shows the DBK212 with the lid removed and removable baffle assembly
(called the insert) turned on its side and set on top of the cabinet.
The smaller cabinet in the left picture is the DBK10II.
RELATED MATERIAL:
SUPPORT FORUM for this box design
---
HOW TO BUILD ONE YOURSELF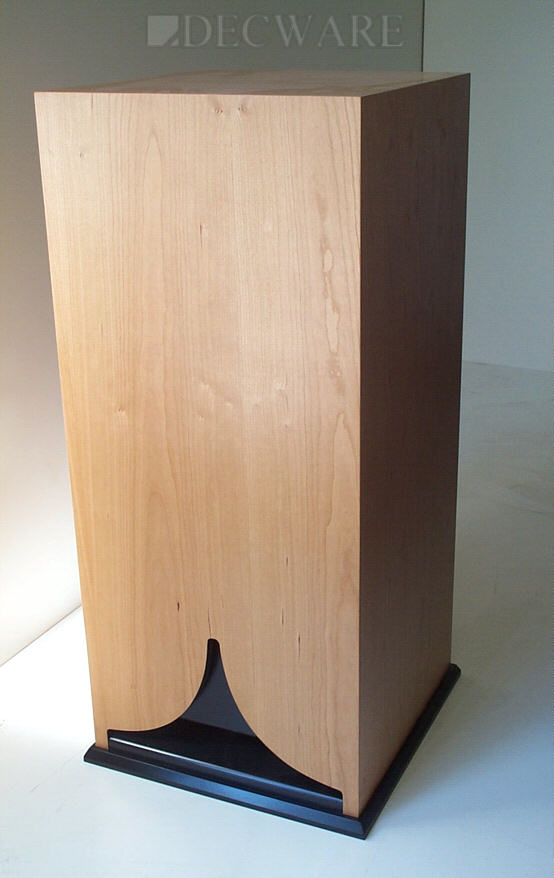 SKILL LEVEL: This is an easy box to build provided you have a good table saw and can make accurate cuts.
TOOLS NEEDED: Besides a table saw (with sharp blade) you will need clamps, carpenter's wood glue, a sander (belt sanders work well) and a drill.
WOOD NEEDED: The box can be built from less than one sheet of 48 x 96 inch plywood, MDF or high density particle board. Below is a cut-sheet illustration showing how each panel should be laid out for cutting:
TIP The trick to assembly is to construct the insert first. Then wrap the side panels around the insert and install the bottom panel. This way the insert will move inside the box with a perfect fit.
SCREWS are typically only used to fasten the removable top (lid) so that the woofer can be accessed. If you properly build the box with wood glue and clamps, nails are not needed as the glue becomes stronger then the wood itself. If you have an air nailer, you can use 2 inch finish nails to hold the panels together in place of clamps while the glue dries.
FINISHES: The most common way to finish this cabinet is to paint it. There are tons of finishes available that can make the box look like anything from rock, to marble. Also you can use real wood veneer for a completely professional look in the house.
WOOFERS: The design makes it compatible with 100's of different 12 inch car audio woofers that work in smaller boxes. Even an inexpensive woofer will see double it's rated power handling in this enclosure and sound great doing it.
JOINERY: The quality of your cuts determines the joinery or fit of each panel. Quality joinery is a major part of the distortion free performance of this box.

WIRING: Since this box can be pointing in any direction other then face down, no official back or front have been defined. We recommend soldering a pair of stranded 16 AWG copper wires to the woofer terminals and run the wire out through the port opening. Make it long enough to connect directly to your amp. If you decide to hide the wire, you can drill a small hole through one of the sides of the box and seal the wire with caulk where it passes through the hole. Terminal cups leak air and are not recommended.
---
THIS COULD BE YOU - BUILDING A BOX THAT'S TWICE AS GOOD AS ANYTHING YOU CAN BUY AT THE STORE, FOR A FRACTION OF THE COST!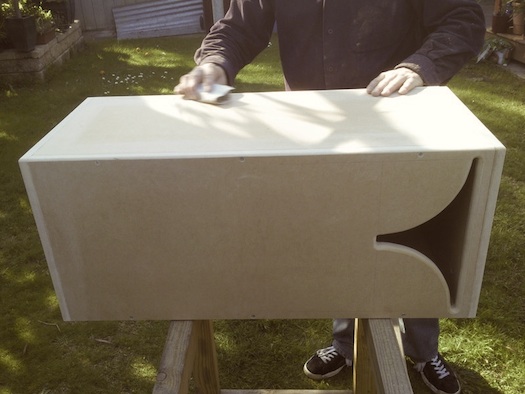 GET THE PLANS NOW FOR $19.95

ADD TO CART
View Cart or Check Out
SEE MORE BOX DESIGNS HERE
NOTE:
These plans come with a Decware Authorized Builder's List so that you can have this cabinet professionally and perfectly built to any grade of
finish you like.