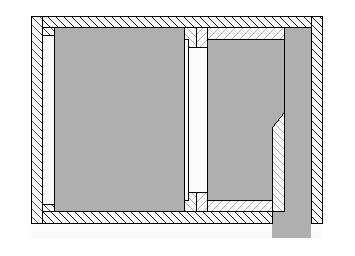 In this animated illustration, you can see the adjustable insert in three possible positions.
FREQUENCY RESPONSE OF DIFFERENT POSITIONS

This is the actual response test done on each of the three positions above.
The Death Box was originally a study in power handling. We studied why woofers blow up, especially in band pass boxes and in the process optimized a design to minimize the negative effects of abuse.

I guess you can tell we were in the car audio business! This process of seeing how far we could take a 10 inch woofer and what the causes of failure were, is how the box got it's name.

We built and tested over 95 revisions of the classic band pass box to improve power handling and SPL. This lead to eliminating the typical port and replacing it with a symmetrically perfect duct system that kept internal pressure evenly distributed on the woofer cone.

We also found cabinet resonance would excite the woofer in negative ways and reducing it improved performance.

Adding a restriction to the duct assembly outlet created a duct that would now resonate across a wider frequency band (like a vero-vent) and that improved power handling again.

Creating a fixed symmetrical duct / baffle assembly that was transmotional allowed the circuit to be optimized for different woofers and tuned in its final destination, the room or car.

The resulting transmotional duct system yields symmetrically even pressures on the speaker cone, hence we named it SCD (Symmetric Compensation Design).

A secret to successful car audio systems is of course your subwoofer, or foundation. Understanding that a car is not a living room, but rather a box is the first step to understanding cabin gain. When you put a box in a car, you are actually putting a box inside a bigger box, thus creating additional orders. Because of this reactive capacitance all around your box, having two 12" woofers openly firing into the car is usually asking for all kinds of performance variables. This is the reason why one enclosure will sound good in one car, and terrible in another.

We have determined that to minimize these loading problems, and to allow an enclosure to breath freely, it must be consistent with a small box to room ratio of less than 15%. It is also desirable to control the air space in front of the woofer by removing the capacitance created by flexing metal in your trunk. This is why we chose a band pass design to begin with.

There are currently copies of this box being marketed that do not employ SCD technology, are not transmotional, and are not able to be tuned to your choice of subwoofer and car. Needless to say the results are inferior. DECWARE makes the only original Death Box.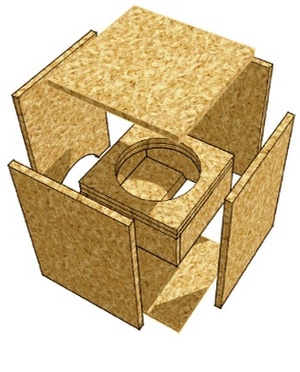 DBK-10 Exploded Views
---
HOW TO BUILD ONE YOURSELF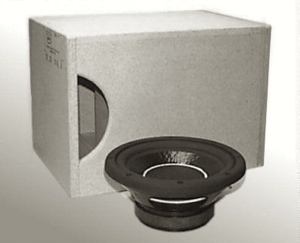 SKILL LEVEL: This is an easy box to build provided you have a good table saw and can make accurate cuts.
TOOLS NEEDED: Besides a table saw (with sharp blade) you will need clamps, carpenter's wood glue, a sander (belt sanders work well) and a drill.
WOOD NEEDED: The box can be built from exactly 1/2 sheet of 48 x 96 inch plywood, MDF or high density particle board. Below is a cut-sheet illustration showing how each panel should be laid out for cutting: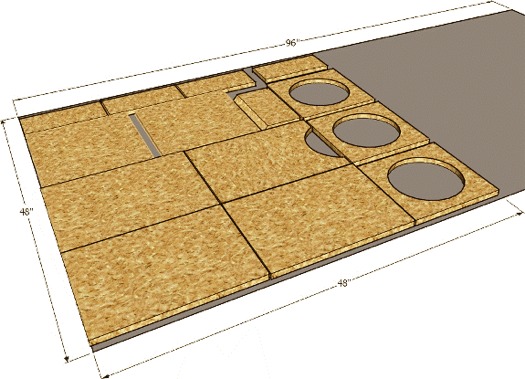 TIP The trick to assembly is to construct the insert first. Then wrap the side panels around the insert and install the bottom panel. This way the insert will move inside the box with a perfect fit.
SCREWS are typically only used to fasten the removable top (lid) so that the woofer can be accessed. If you properly build the box with wood glue and clamps, nails are not needed as the glue becomes stronger then the wood itself. If you have an air nailer, you can use 2 inch finish nails to hold the panels together in place of clamps while the glue dries.
FINISHES: The most common way to finish this cabinet is to paint it. There are tons of finishes available that can make the box look like anything from rock, to marble. Also you can use real wood veneer for a completely professional look in the house.
WOOFERS: Decware makes an ideal and well loved woofer for this cabinet. However, the very design makes it compatible with 100's of different 10 inch car audio woofers that work in smaller boxes. Even an inexpensive woofer will see double it's rated power handling in this enclosure and sound great doing it.
JOINERY: The quality of your cuts determines the joinery or fit of each panel. Quality joinery is a major part of the distortion free performance of this box. If you're into box carpet and liquid nails to hide your joinery, and demand the best performance consider purchasing one already built by Decware. We use CNC machines and build the cabinets more perfectly then is possible to do by hand.
WIRING: Since this box can be pointing in any direction other then face down, no official back or front have been defined. We recommend soldering a pair of stranded 16 AWG copper wires to the woofer terminals and run the wire out through the port opening. Make it long enough to connect directly to your amp. If you decide to hide the wire, you can drill a small hole through one of the sides of the box and seal the wire with caulk where it passes through the hole. Terminal cups leak air and are not recommended.
---
RELATED MATERIAL:
SUPPORT FORUM for this box design
The DHM-108B is the recommended woofer for this box
Original white papers
---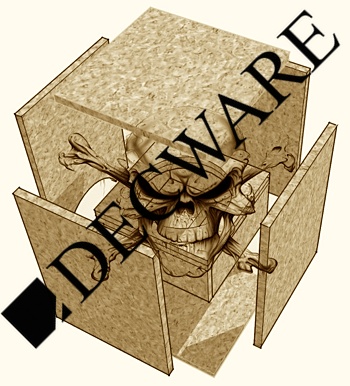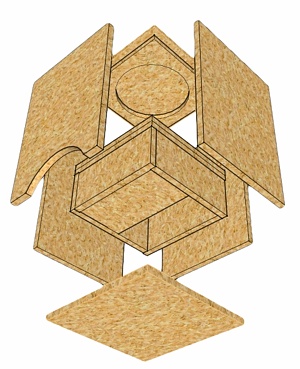 DBK-10 Exploded Views
GET THE PLANS NOW FOR $19.95

ADD TO CART
View Cart or Check Out
SEE MORE BOX DESIGNS HERE