DHM108B - POSSIBLE ENCLOSURE RECOMMENDATIONS

We designed this woofer to work with all of our 10" box designs. This would include the Deathbox II, the Wicked One, the Low Rider, the Truck Box, and the 10" scaled version of the House Wrecker. These enclosures are all grouped together on the following page: Diyboxes.
This is also a wonderful woofer for custom boxes designed for either home or car use. Below are some possibilities with projected responses.
You can now view the actual high resolution plots on line, and print a perfect
copy of it right from your desktop using the free Acrobat Reader!

RECOMMENDED COMPUTER MODELED ENCLOSURES
for the DHM108B woofer.


BOXPLOT 1.PDF

a large 7.5 cubic foot ported enclosure with

flat

response to 25 Hz.

BOXPLOT 2.PDF a 3.2 cubic foot ported enclosure with response to 30 Hz.

BOXPLOT 3.PDF a small sized 1 cubic foot sealed enclosure for cars.

WINSPEAK 1.PDF in car response modeled for our DBK10II Death Box.

WINSPEAK 2.PDF 2.5 cubic foot 4th order vented box modeled for cars -
response at 20Hz exceeds 125dB.

WINSPEAK 3.PDF 2.5 cubic foot 6th order symmetric band pass (almost the same as a death box, but shows 2nd order passive crossover details.)

WINSPEAK 4.PDF 1.5 cubic foot 4th order box with both standard and in car response shown..
Try one in our Transmotional Death Box II

typical responses shown above for a DHM108b in our Death Box II.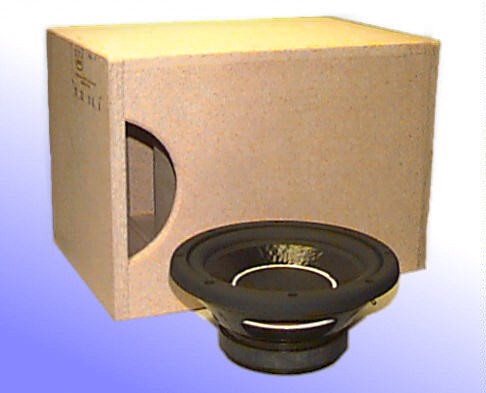 To order one or several, try our secure on line catalog