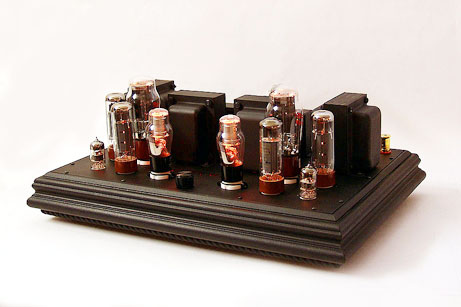 Zen TORII MK II Review
To Decware Staff,
I got my TORII MK II Sept. 30, 2005. It's still in the break in period and to say that I'm impressed is an understatement. I have had my Select for almost 6 years and upgraded to the EX mod on Nov. 2004. Mated either with ZSLA AND CSP PREAMP (MOSTLY WITH CSP – I NEEDED THE GAIN). The speakers includes
Legacy classic (sold), Norh wood 9.0 (sold), Norh prism 6.6 (sold) , Hornshoppe horns with the old fostex
Drivers, Jordan JX 92S in VTL transmission line (diy) and Decware modified Fostex 206. Over the years I
Had the Norh Multi-amp (exchanged), norh le amp 1 (sold), Morrison elad pre-amp (still have it) and $39 Sonic impact (2 of them – for Garage and Patio use) . Sources Tjoeb 99 CD Player – 2 (both sold). ,DEC 685. Interconnects and speaker wire from TMC, to Decware , to Mapleshade speaker cable, to cat 5. So
I'm also like everybody whose looking for decent sound and a'm willing to spend my hard-earned money for "music". I consider to be an audiophile but just music lover and I know good sound. That's why I ended up with Select(EX modded), Csp, DEC 685, MAPLESHADE, speaker wire, Decware interconnect, Hornshoppe horns. I'am very satisfied with the sound. And so! Why I bought the Torri MK II. SOME
REASONS.
1. LIKE EVERYONE OUT THERE WHO SEEKS THAT THERE IS ONE EVEN BETTER.
2. 20% DISCOUNT for the 1st 10 buyers.
3. FLEXIBILITY
4. BELIEF IN DECWARE
SO how does it sound?
THIS IS FROM MY HUMBLE OPINION IN MY OWN ROOM, WITH MY OWN MUSIC, ON MY OWN EQUIPMENT!
IF YOU HAVE A SELECT (EX-MODDED OR NOT) YOU DON'T LOOSE ANYTHING !
AND MORE. WHAT MORE? 'The magic word is 'Control" NO MATTER WHAT SPEAKERS I PAIRED IT TO, NO MATTER HOW COMPLEX THE RECORDINGS ARE-THE TORII CAN HANDLE IT WITH FINESSE AND EASE AND AUTHORITY. 'IT MADE MY LITTLE HORNHOPPEHORN GREW 1 ½ TIMES BIGGER AND MY DECWARE MODIFIED FOSTEX 206 SOUND IT'S BEST IN AN ENCLOSE WITH NO DESIGN! WHAT SURPRISES ME IS THAT IS IN THE BREAKEN IN PERIOD AND WITH CHEAP RUBY RECTIFIER TUBES. I DON'T FEEL THE NEED TO PUT IN NOS TUBES- UNLIKE IN THE SELECT THAT CHANGING THE RECTIFIER FROM RUBY TO NOS MAKE A LOT OF DIFFERENCE. I FEEL THAT FOR NOW I AM JUST DONE BUT MAYBE NOT BECAUSE IT OPENS UP THE MARKET FOR A WIDE VARIETY OF SPEAKERS BECAUSE I KNOW MY TORII MKII SERIAL #3 CAN "CONTROL" THEM.
P.S.
THIS LETTER IS IN WRITTEN IN APPRECIATION OF THE DECWARE COMPANY AND IT'S STAFF. I JUST HAVE A CONTINOUS WONDERFUL EXPERIENCE WITH IT'S PRODUCTS
THAT'S WHY MY DECWARE GEARS ARE ALL BELOW #10 SERIAL NUMBERS.
Sincerely,
RODEL B.B BARIZO
---
Decware is a trademark of High Fidelity Engineering Co.
Copyright © 1996 1997 1998 1999 2000 2001 2002 2003 2004 2005 2006 2007 2008 by Steve Deckert