| | |
| --- | --- |
| INVERTED WEDGE DESIGN | 2 x 10's or 2 x 12's |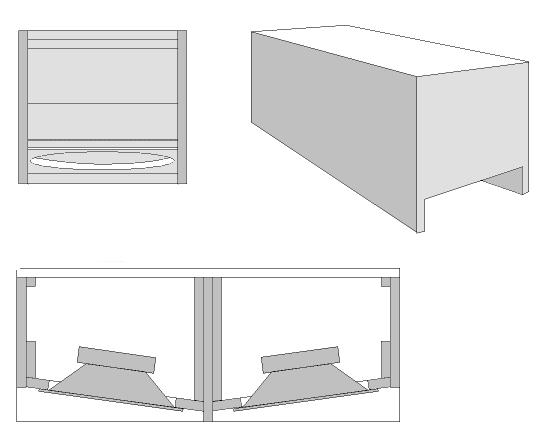 ---
SIZE: 32" wide x 12.75" tall x 14" deep
The Inverted Wedge Design was done for 10 and 12 inch drivers as a sound quality and SPL box. Originally done with cars in mind we have found it to also work well in the home as an audiophile quality subwoofer. This particular design was one of our most popular around the time we did the Deathbox. It was featured in our 1991 Decware box catalog and could be found in many serious competition cars during those early IASCA days.
It has 3 main features that set it apart from other box designs around the same size:
1) It pre-loads the drivers against the floor of the vehicle / increasing damping and power handling.

2) It couples more bass to the interior cabin space then any other box design of the same size.

3) It has 8 times the physical coupling to the vehicle with over 1 lb per square inch verses the normal 0.13 lb per square inch of a normal box.

What all this means is tight, deep, loud non-fatiguing bass. In hatchbacks or larger trunks it simply kicks ass. It's a classic lesson in how the right box design can give you up to 4 times more bass from the same pair of woofers. Your amp will run cooler, clip less, draw less current from your charging system, have more headroom and lower distortion as a result.
Designed for woofers that are used in sealed boxes between 1/2 and 3 cubic feet. We always ran a pair of 8 ohm woofers in parallel for a 4 ohm load. (Remember bridging a stereo car amplifier makes the amplifier see only 1/2 the actual speaker load so this example creates a 2 ohm load for the amp).
---
Plans are available for instant download for $9.95
---
Decware is a trademark of High Fidelity Engineering Co.
Copyright (C) 1996 ~ 2016
by Steve Deckert