Wonderful full range frequency balance with high efficiency!
This is our modified Fostex FE206E driver. It is the result of years of auditioning Lowthers and similar full range drivers in an effort to find something that would work well with our amplifiers (and sound good!).

With the modifications this driver needs no tweeter, has killer bass and no midrange/treble shout.

This is the actual driver used in our High Definition Tower speakers and is now available for the DIY speaker builders.

FE206EM $295.00 pr.

MODEL FE206E-M

CLICK HERE FOR LARGER IMAGE

SPECIFICATIONS

Decware phase guide installed

Modified ES banana pulp cone

110mm magnet

38 Hz to 20 kHz

208mm Flange - 8 inch

Cut-out 182mm

Depth 87.5mm

Sensitivity 1W/1M 96 dB

Nom. Power 90 Watts

QTS 0.23

QMS 3.03

QES 0.23

RE 6.69 ohms 8 ohm nominal

VAS 54 ltrs / 2.01 cubic feet

Net weight 3400 grams / 7.58 lbs


Read about it here!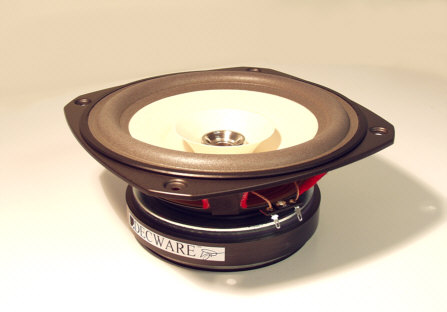 We are now offering
the new Decware Full
Range driver model:
DFR-8 (pictured left)
in place of the
FE206EM.
The price
is unchanged.
You can read about
the DFR-8 at this link.

View Cart or check out.
---
Decware is a trademark of High Fidelity Engineering Co.
Copyright © 1996 1997 1998 1999 2000 2001 2002 2003 2004 2005 2006 2007 2008 by Steve Deckert