Thanks to our new UFO output transformer design it became possible to bring Decware's most popular amplifier (the Zen TORII MK4) to you in a smaller and more obtainable package without sacrificing sound quality or performance. In fact when you hear it we're sure you'll join the already huge number of TORII JR owner's who say this is somewhat of an understatement.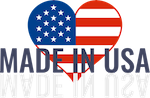 This amplifier is an example of what happens when you build a tube amp in the United States with US parts and labor and put a lifetime warranty on it.

The JR is using the same proven if not legendary circuit used in the TORII MK4 but stripped of all non-essential features. As the first in the TORII line to employ our Ultra Fidelity Outputs you can expect a bandwidth to within 1/2 dB from 25Hz ~ 25kHz. The 3dB frequency response is 10Hz~70kHz with 6dB out past 100kHz. The resolution it takes to get this bandwidth results in the kind of speed and transparency that make this amp UN-touchable by anything other than exotic boutique products.

It has been my goal since taking Decware online in 1996 to make an amplifier that sounds this good available to the sincere but broke audiophiles of the world, and while we offer several amplifiers the TORII JR the only one that gives you this combination of power and sound for the the price.


Steve Deckert - owner
of Decware & designer of Decware amplifiers.


---

SET TRANSPARENCY / PUSH-PULL DESIGN

UFO OUTPUT TRANSFORMERS = -6dB @ 100kHz

DUAL MONO TUBE REGULATED POWER SUPPLY

ULTRA SHORT 3D POINT TO POINT SIGNAL PATH
ZERO GLOBAL NEGATIVE FEEDBACK

MADE IN USA WITH USA PARTS
NO CIRCUIT BOARDS / LIFETIME WARRANTY
20 WATTS PER CHANNEL

If you're coming from a larger solid state amplifier of several hundred watts and considering a tube amp but worried about things like bass control, dynamics, weight, headroom, or just having enough power to make your speakers sound right, then you'll probably be pretty surprised when you first hear a TORII JR because the performance and speed are actually superior. You will not be disappointed.

Remember, 20 watts of high voltage tubes coupled to your loudspeaker through a huge transformer is not the same thing as 20 watts of solid state transistors directly coupled to your loudspeaker. Most people would perceive the power of a TORII JR around 100 watts and that's not far off when you consider the peak power is over 70 watts into a loudspeaker, and instantaneous peak power even higher still. Let's just call it an amazing amount of headroom.

SET TRANSPARENCY

Decware's Motto for the past 20 years has been: "If the First Watt Sucks, Why Continue?" ...and nothing could be truer today. If an amplifier doesn't have the incredible sound of lower power SET's, then it makes no difference how much power it has because it won't be used by people spoiled by SET transparency. The Zen TORII amplifiers of which there are now two, employ a direct-coupled phase inverter design that is high in even order harmonics very much like a good SET amplifier. The result is an SET sound with performance that exceeds solid state.


UFO OUTPUT TRANSFORMERS = -6dB @ 100kHz

Ultra Fidelity Output (UFO) are the equivalent of rare hand made boutique transformers because that's exactly what they are. Made in the USA and introduced in the Summer of 2015, the TORII JR is the first push pull amplifier to employ the technology. As a result, the resolution and uncanny speed these transformers enable make the TORII JR literally untouchable in the world marketplace for the dollar, and that of course means in no uncertain terms that there is nothing in this price range that sounds better.


DUAL MONO TUBE REGULATED POWER SUPPLY

You have to understand that tube amplifiers at this price do not have regulated power supplies. And the the more expensive amplifiers that do have regulated power supplies use solid state transistors to do the regulation because it's cheap and makes it possible to use 10 times smaller capacitors, which also save money... and very few amplifiers any where near this price point use tube regulation and rather than shrink power supply capacitance, double it like a Decware Torii amplifier. Consider the benefit of this approach to yield results similar to having your amplifier plugged into an expensive power re-generator.


ULTRA SHORT 3D POINT TO POINT SIGNAL PATH

Sometimes a picture can be worth a thousand words and below is the entire audio circuit of a TORII JR. There are less parts here than you find in a single solid state Op Amp, and being life size instead of miniaturized, it handles the high voltages and current that create the real power of tubes.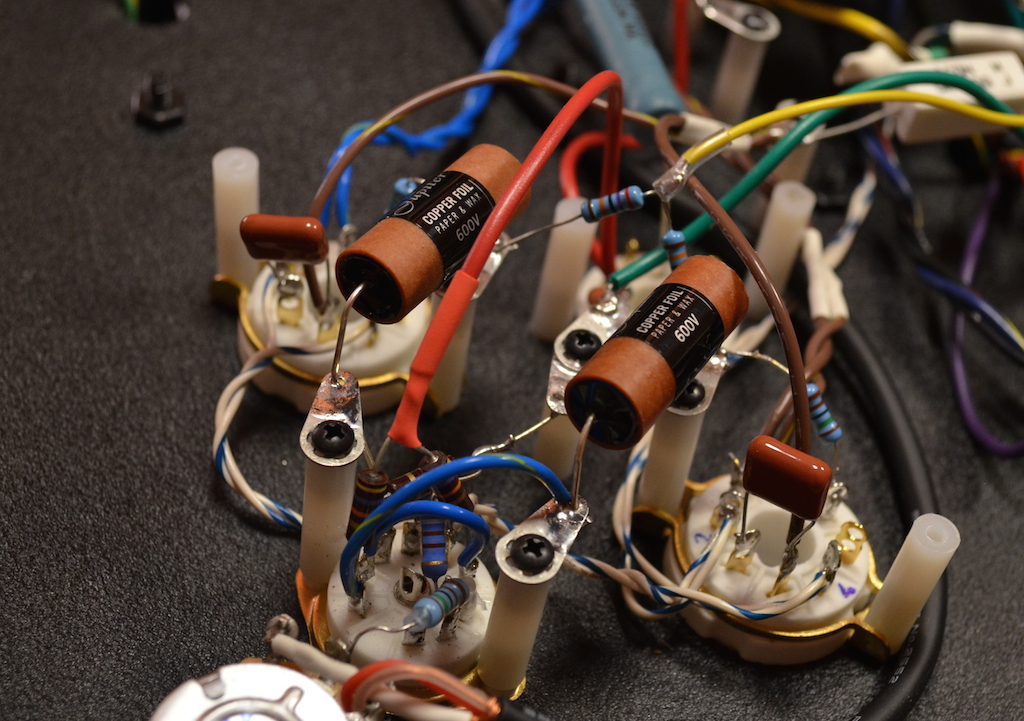 Shown above; Silver/Teflon wire, cryo treated capacitors and all components silver soldered in a layout that minimizes wire and connections. The channel you see above takes 5 man hours to build. Mass producing the same thing with a circuit board reduces that time to 4 minutes. So if you want to know whether or not a company is more interested in profit or sound, just see if uses circuit boards.



ZERO GLOBAL NEGATIVE FEEDBACK

This won't mean much to you unless you're an imaging and sound-stage enthusiast. Negative feedback is in the vast majority of tube amplifiers and almost all solid state equipment. It smears the time signature of the music and as a result lowers distortion on paper, but in our would, smeared time IS a distortion that remains far worse. In a good room where you can reproduce a sound stage behind the speakers that goes back 30 feet it is easy to hear what feedback does. The same recording with the amazing depth is destroyed with the addition of feedback reducing the depth to about 6 feet. Attack is also blunted by feedback which is why amplifiers like the TORII JR without feedback sound like they hit harder than feedback ridden solid state.

LONG TUBE LIFE

The tubes in a TORII JR run at lower voltages than most tube amps and are biased at about 70% of their rated current resulting in tubes that last about twice as long as normal. This also affects the sound in two ways; 1) the lower voltages give a more organic presentation and 2) At any given time the tubes are in better shape than they would be in most amps, so consequently hour for hour the TORII JR will always have better sounding tubes. Many tube amps besides not sounding as good as promised, become tedious to maintain with all too frequent tube issues. The TORII JR is not one of those amps.




MADE IN USA WITH USA PARTS



Many of the best inventions to benefit mankind came from the United States which is a unique melting pot of immigrants from countries all around the world. The TORII JR, as do all Decware amplifiers, takes advantage of these resources and technologies to bring you an amplifier that Af) You'll probably never sell and B) will probably never break hence the reason it comes with a lifetime warranty against defects in parts or workmanship.


TUBES ARE INCLUDED



This amp is shipped with hand selected and matched quads of premium quality EL34 output tubes by Tungsol.

Any time you change or refresh your output tubes, the bias setting on the TORII JR. must be adjusted for the new quad of tubes. Simple instructions for this are in the owner's manual.

---

OPTIONS

The TORII JR Comes with many OPTIONS so you can personalize your amp

You can also select from the black figured wood base (shown at the top of this web page) OR contemporary styled solid hardwoods like the walnut shown above. Additional woods like oak, maple, cherry and even exotics can be selected from within the shopping cart. The Black Figured base is only available in Black.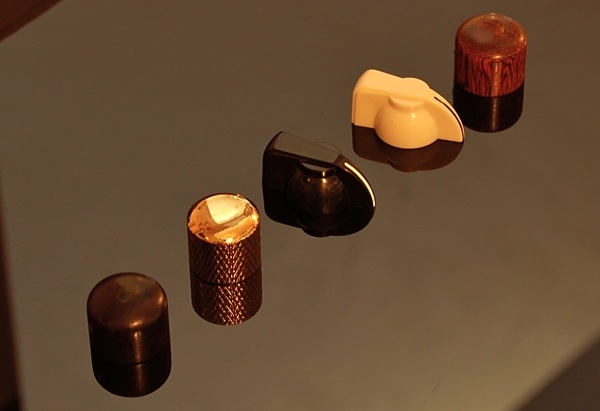 Available Knobs: From left to right are Ebony, Gold, Black, Cream, Walnut. You can configure your Torii with the knobs you want from within the shopping cart.
Your Amplifier can be configured in the shopping cart



Voltage: We will automatically ship your amp with the correct power cord for your country based on the shipping address you supply and the voltage you select.

Wood: Only the "Black Figured" base is of the Victorian style, all other hardwood bases are of a contemporary styling. Wood bases are user interchangeable so if decide at some point to change the way your amplifier looks with a different wood base, you will not have to ship the amp back to have it done, you can do it yourself with a single screwdriver.

Volume Controls: Smooth action volume controls are standard and are infinitely adjustable giving you precision control over channel balance. The Stepped attenuators are actually a 20 position switch that features 1% metal film resistors. With those, you can adjust the volume in 20 steps. There is no infinitely fine or small adjustment like the standard volume control.

Knobs: Gold knobs are the most popular and consequently, kind of the standard knob for a Torii, however if you selected a black wood base, the Ebony knobs match the base, just as the Dark Walnut knobs nicely match the wood bases made of walnut. Chicken head knobs give the amplifier a more vintage look and are available in black or cream colors.


Shipping Case: This case is a guarantee that your amplifier will not arrive damaged from shipping. It also has wheels and a handle making it easy to transport your amplifier to and from shows or audio events.

This Military-grade waterproof/shockproof case customized to perfectly form-fit your amp for transport and or shipping. The amp fits upside down into foam.
SKB 3I Series Injection Molded Mil-Standard Waterproof Cases are molded of ultra high-strength polypropylene co-polymer resin, featuring a gasketed, water and dust tight, submersible design (MIL-C-4150J) that is resistant to corrosion and impact damage.

Features a continuous molded-in hinge, patent pending "trigger release" latch system, comfortable, snap-down rubber over-molded cushion grip handle, automatic ambient pressure equalization valve (MIL-STD-648C), resistance to UV, solvents, corrosion, fungus and impact damage (MIL-STD-810F).

Case features wheels and a pull out handle so anyone can easily move it.
Once you have configured your amp in the shopping cart, hit the UPDATE button to see the total price of your configuration. If you're not sure if you picked the right options, place the order with the options you picked and then give Steve a call and we can easily change anything that needs it. You have on average at least 2 weeks after placing your order to call.



---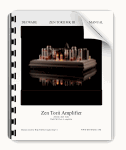 Zen TORII JR Owners Manual
DOWNLOAD THE OWNER'S MANUAL NOW TO LEARN ABOUT THE AMP.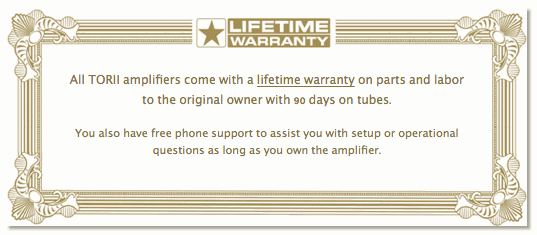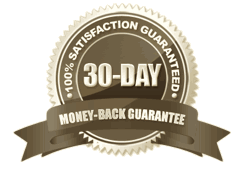 ---
DESIGN NOTES - TORII JR

by Steve Deckert
It's no secret the in the world of exotic tube amplification that S.E.T. amps rule in transparency and liquidity. We've all heard statements like... "

female vocals to die for

" or "

insane imaging

" when describing these jewels, but in the same breath you'll also hear things like "

needs an easy to drive speaker

" or "

while the bass is good, it lacks the absolute control and dynamics of the bigger amps

." So right away you're left with a compromise... performance vs. musicality and grace.


S.E.T. amplifiers are what motivated the design of the Zen TORII & TORII JR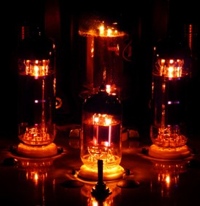 ...because any time you have between 2 and 10 gloriously transparent watts the only thing that could be better is

more

. Designing a high power S.E.T. amplifier requires adding another gain stage (tube) or paralleled output tubes (or both).

Either one

causes a loss of transparency when compared to a single output tube per channel.

In the Torii design, even though you have two tubes per channel, they are not in parallel but rather transformer coupled in series so that only one tube is really in the signal path at any one time.

Having

such a simple signal path

gives the Zen TORII JR the same transparency as our SET amps where only 2 resistors and 1 capacitor are seen by the signal. And to complete the picture, just like a good SET amp, the TORII JR employs no negative feedback for slack-jaw imaging.
UNFAIR ADVANTAGE
How do you get an amplifier to sound like it does at 2:30 A.M. (when the power is cleanest) during the day and virtually every time you listen to it?

Tube voltage regulation designed to filter instead of regulate.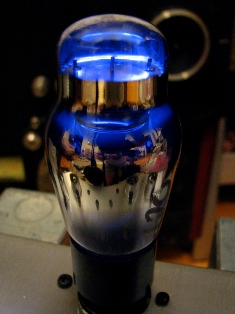 First of all, the vast majority of tube amplifiers for sale do not even have tube regulation. N

ot to mention the obvious... but just because an amplifier has tube regulation doesn't mean it's going to sound better. Tighter and more control, yes. Better? ...not often. The classic shunt regulation so often seen in tube amplifiers that do offer it, often poisons the transparency with injected noise that must be further filtered. The TORII doesn't need tube regulation to improve power supply performance. It features a dual mono filter design with oversize power transformer. It's a

brute force approach

that delivers over 300 ma. of current when barely half that is actually used by the circuit.

In this special amplifier the Voltage Regulation tubes are wired

in series

with the load. In that configuration they become a filtering device instead of a regulating device. The VR tubes place a measurable

vacuum gap

between the load and the power supply. This creates Ultra Clean Power because all of the the noise is filtered off. (Noise from pollution in your local power grid that includes the harmonics that ultimately end up at your wall outlet and in your amplifier.)

This poisons virtually everyone's power outlets but it is eliminated in the TORII JR. Noise and contamination in the power grid literally doesn't make the jump across this vacuum gap between the cathode and anode of the regulator tubes. Talk about black backgrounds, we could call it the grain eliminator or the liquidity insurance program, or just an unfair advantage over tube amps.

This ultra clean power is one of the reasons why

we know

that unless you own and use a power generator, like the PS AUDIO power plant as an example, there is no way your present amplifier will sound as good as a TORII JR during the daytime hours.

You won't find tube regulation in the vast majority of power amplifiers, and none that use it in this critically important way. Yet, impressive as it might sound it is only a small part of why the TORII JR can achieve the unique sound quality that is has.


SET TRANSPARENCY EXPLAINED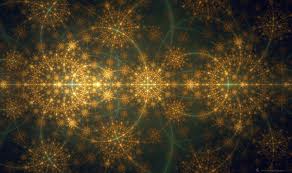 The TORII design uses a unique push-pull circuit that employs only a single capacitor and gain stage to drive the output tubes, just like our popular 2 watt S.E.T. amps. Add to that the cleverly simple way it preserves the even order harmonic content and you have a push pull amplifier that is truly

unique in the market

... It has the beauty of S.E.T. sound with the performance of the very best push-pull. Speed and attack are taken to a new level here. In fact, the TORII JR makes most 200 watt solid state amps

sound lean and flat

.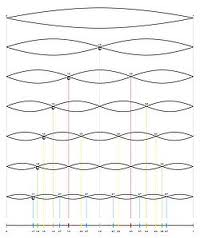 EVEN ORDER HARMONICS

ARE PART OF WHY SINGLE-ENDED AMPLIFIERS SOUND SO GOOD

.

The Zen TORII has unique harmonics giving it a sound

unlike

virtually all push pull amplifiers, solid state OR tube.

The harmonics of an amplifier can be revealed in the distortion measurements. There are two types of harmonics;

Even order

harmonics and

Odd order

harmonics. Musical instruments naturally create lots of Even order harmonics. So do single-ended amplifiers BTW. However, I can't think of too many things in nature that create sound with Odd Order Harmonics, except for solid state and tube push pull amplifiers! This is why you don't get an organic sound from these types of amplifiers, and why everyone is so gaga over Single ended designs.




Here is a distortion graph of a typical push pull amplifier: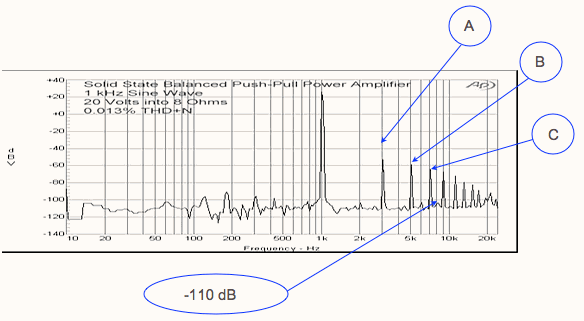 This works by simply playing a single tone at 1kHz and measuring the echo! You can see that the first harmonic (A) is at 3kHz - an ODD number. The next (B) is at 5kHz and the third (C) is at 7kHz. This is what an ODD Order Harmonic signature looks like. Notice there is no even order content whatsoever. Also of interest is the average noise floor seen between the test signal at 1KHz and 20kHz is about -110dB. (larger numbers are better). Considered very good this noise level is brought to you by a Balanced XLR solid state push pull power amplifier.

One of the main reasons why push-pull amplifiers never sound like good single-ended triodes is because most push pull designs naturally cancel the even-order harmonics as clearly shown in the graph above! Below is the TORII's graph, where you will

find the missing Even order harmonics

at 2kHz, 4kHz, 6kHz and so on, yet it IS a push pull design!


Shown below is the superior sounding distortion graph of a Zen TORII: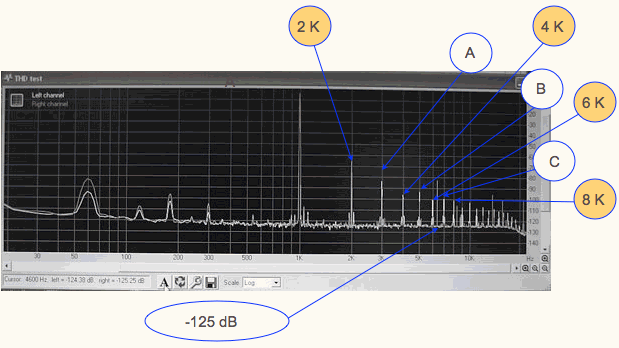 So you can see in the explanation above why the TORII's respond like a single-ended amp and why most push-pull designs sound far from it. Having the power and control of push-pull and the sound of SET, the TORII gives you the

best of both worlds

.




THE TORII JR VS
TORII MK4


The TORII JR takes our most popular amplifier, the TORII MK4, and shrinks the physical size down by having one large power transformer instead of two smaller ones. In addition, an ultra-linear output transformer is used eliminating much of the complexity of the MK4. For example, adjustable damping, reconstructive feedback, bass and treble adjustments are no longer needed and therefor omitted. The additional tube regulation for the output tubes is also no longer needed since the tube screen are now regulated by the output transformer. This simplifies the amplifier resulting in lower cost to produce.

Since the amplifier has less parts and less wire, some very purist things were done to facilitate absolute transparency. We have located the silver input selector directly in-between the input jacks so that all that connects the two is 1 inch of silver/Teflon wire. This was repeated for each channel and basically eliminated around 14 inches of internal shielded signal cable. Additionally, the gain (VOL) controls were separated, one for each channel and located 1 inch away from each input tube. This again eliminates a 12 inch shielded signal cable and replaces it with a 1 inch piece of silver Teflon wire.

Besides these differences, the circuit remains the same with the one major difference of being the TORII JR is a fixed bias amplifier using a negative voltage on the grids of each output tube. This means that unlike the TORII MK4, the bias will have to be adjusted each time output tubes are changed. In the MK4, different output tubes can be tried without re-biasing.

Biasing the JR is very simple and easy to do, as one small adjustment does all four output tubes at the same time, and can be done externally without having to move the amp. We put the adjustment just in front of the volume control to ensure ease of access. Please review the owner's manual for more information.



---
NOTICE for Spring 2021


The TORII JR has just been redesigned - it is now the TORII JRv2. All TORII JR amplifiers on order are being shipped as TORII JRv2. You can read about the changes here in our forum:
TORII JR VERSION 2
The short version is that it no longer has to be biased and it works with a bunch of different output tubes making it a far friendlier amplifier to own and enjoy. It also sounds a touch better and includes anniversary mods.

---
TORII JR SPECIFICATIONS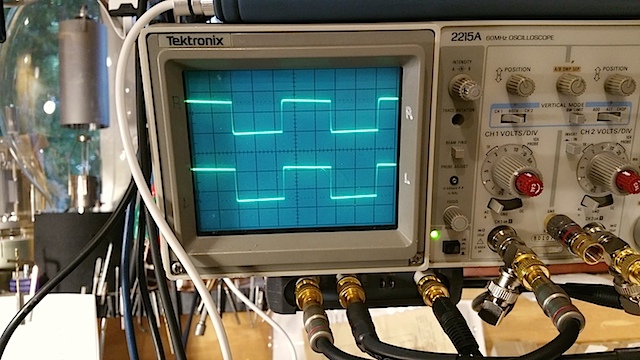 TORII JR, a tube amp, measures better than the Hamon Kardon Citation Solid State Receiver of the 1970's with a

square wave response

tilt of < 4% and power bandwidth out past 70kHz
INPUT TUBE CHOICES: 6922, 6N23P, 6DJ8, 7DJ8

OUTPUT TUBE CHOICES: EL34 6CA7 KT77 KT66 5881 6L6 7027 350B

INPUTS: 2 RCA TYPE INPUT JACKS FOR EACH CHANNEL
INPUT SELECTOR SWITCH: SILVER

OUTPUTS: 1 PAIR HEAVY GOLD 3 WAY BINDING POSTS PER CHANNEL
OUTPUT STAGE TOPOLOGY: GND-CATHODE TRANSFORMER RK
RLOAD PLATE TO PLATE: 6600 OHMS
ULTRA-LINEAR OUTPUTS
HI / LO SPEAKER IMPEDANCE SWITCH

IDLE CURRENT: 40 MILS PER OUTPUT TUBE
INPUT IMPEDANCE: 100 K OHMS
INPUT SENSITIVITY: ADJUSTABLE to 2.0 VOLTS
POWER INTO 4 or 8 OHMS: 20 WATTS RMS PER CHANNEL
OPERATION: CLASS A1
INPUT STAGE REGULATION: OA3/VR75
RECTIFICATION: 5U4
INPUT STAGE: ONE 6N23P or 6922 PER CHANNEL
OUTPUT STAGE: MATCHED QUAD EL34 PER CHANNEL
SIZE: 17-1/4 " WIDE x 13-3/4 " DEEP x 7-3/4 " HIGH (figured base)
SIZE: 16-1/2 " WIDE x 13 " DEEP X 7-3/4 " HIGH (contemporary base)

NET WEIGHT: 31 lbs.
WARRANTY: LIFETIME TO ORIGINAL OWNER / 90 DAYS ON TUBES
REMOVABLE POWER CORD
FREQUENCY RESPONSE: 25Hz ~ 25kHz +/- 0.53dB
FREQUENCY RESPONSE: 10 ~ 70kHz +/- 3dB

TOTAL HARMONIC DISTORTION: 0.4%

SPECIFICATIONS MEASURED WITH EL34 OUTPUT TUBES