This is additional information on my '72 Monte Carlo posted for sale around the Internet.
The Story: I purchased this car in 1999 from a young man who wanted a Firebird. (Yea, I thought the same thing.)
It was a stock 350 with the original 2 barrel when he brought it over to me and had just been painted. It looked real good, nice and straight and no evidence of rust. He had repaired both rear quarters and both front fenders with patch panels and it was hard to tell. I stole it from him for $2500.
The car ran good and drove nice. The engine had been rebuilt about 40Kmiles ago but the 194 heads had worn valve guides. I put new aluminum heads on it and a decent intake/carb and enjoyed it. I also put new tires and ladder bars on it and repaired the air shocks.
After having the car for a year I started to see some minor cracking in one of the fenders. I figured for what I paid for the car it wouldn't kill me to have it repainted and at this point had pretty much decided to keep the car forever.
The $2500 paint job turned into an $8500 restoration that lasted 8 months. The following was done:
New rear quarters welded-in.

Front fenders removed and re-repaired.

Entire trunk floor was replaced.

Both rear wheel wells were repaired.

Additional steel was replaced behind the rear bumper

Rear window removed and steel replaced under it (this is the one everyone blows off)

Front window removed for inspection

Entire car taken down to bare steel

Repainted white and new chrome installed where needed.
Naturally I was a little shocked at how much minor rust a person can find when you really go digging for it. I've owned several of these first generation Monte's and I couldn't find any rust on this car when I bought it. But as I mentioned, I intended to keep this car forever so I wanted ZERO rust inside and out.
OTHER STUFF
Now that I had a solid car it was time to buy that dream motor - a 430 HP stroker from All Chevy Engines in Texas. In preparation, I had a new custom exhaust (tuned) installed in such a way so as to c lear the ladder bars I added to the rear axle. A new radiator was also installed and a shift kit in the transmission.
MISC
The interior is original, dark saddle (tan) and in pretty good shape. The head liner has a small tear in the back but is in otherwise good shape. The rear seat is perfect, the front needs to be recovered (rip in drivers seat). The arm rest on the drivers side needs a new pad. The carpet is new. The dash and doors are perfect.
All the rubber seals on the car were replaced during the restoration.
The new motor got 18.6 mpg during our 5000 mile trip to the West coast last fall.
After 2 years of searching I have purchased a new front grill and will no doubt have it installed before the car is sold.
UPDATED INFORMATION
Since I use this car as my daily driver (except for snow) it is in a constant state of change. Since writing the above, I have purchased new tires with raised letters - really sets the car off nicely. I have also installed a new front grill. To make the car a bit quieter when you step on it, I changed the camshaft. The result of that was a quieter wide open throttle, and considerably more low end torque. With the rear end gear I never took the motor past 6000 RPM and most of the driving is at 2000 RPM. The new high energy cam has proven to make the car twice as exciting to drive both in town and on the road. If I were going to keep the car, while certainly not a priority, I would like to put a new torque converter in with a little more stall. I just installed new carpet.
So far my total investment on the car has hit 19K.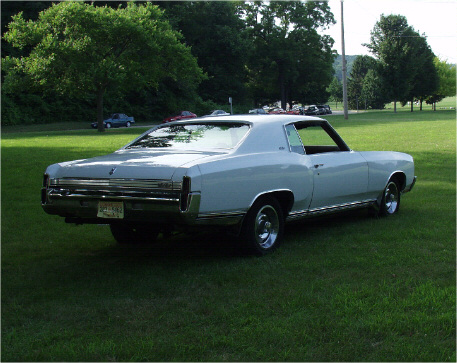 1972 Monte Carlo 2 Door Hard Top / Bench Seat / 350TH Automatic / Rally wheels / Eagle GT Radials / Headers with Dual Exhaust / 430HP 383 Stroker Engine / AC has been removed / no rust, fresh paint.
GM 4 bolt main 350 block (4.030 bore size)
New Eagle std/std cast steel "stroker crank"
Eagle forged rods
TRW forged pistons (10:1 comp)
Crane 284 hydraulic flat tappet camshaft (488 lift, 228@50)
Heavy duty Cloyes double roller timing set
Michigan 77 bearings
High volume oil pump
Fel-Pro gaskets
World Products "Sportsman II" heads
Hard seats and guides for unleaded or reg fuel
New 2.02" stainless intake valves
New 1.60" stainless exhaust valves
Screw in studs and guideplates
New Pioneer heavy duty springs
New pushrods
Crane Cams roller rockers #11744
New oil pan, timing cover, chrome valve covers
New GM harmonic balancer damper
New heavy duty flexplate and bolts
Edelbrock intake manifold
Balanced, blueprinted
Edelbrock aluminum water pump
Billet aluminum pullys
454 lbs of torque at 4500 RPM
420 hp at 6500 RPM
MSD Billet aluminum 10,000 RPM distributor
ENGINE
Ever wanted a perfect motor? This is it. Perfectly broken with 16,000 trouble free miles. The rear end in this car is an economy type meaning it tacs out at 2100 RPMs when you going 70 miles per hour. However the motor has so much torque that it makes the car feel effortless. 0 to 60 in this car is impressive... then there's 2nd gear and 3rd :) I spent over 5000.00 on this motor and it was worth every cent. 92 or 93 octane is a must. All supporting componants ie. starter, alternator, fuel pump, wiper motor, radiator, motor mounts, exhaust, belts hoses and pullys are new, as is much of the wiring. I've never taken this car to the track because without a higher gear ratio I can't get the car to hook-up. (Hence the brand new tires)
This is a car that when you drive it is has the ability to jump from one spot to another almost instantly regardless of what gear your in, and it's the same if your going 30 mph or 90 mph. Simply incredible throttle response.
HI RES PICTURES:
HI RES of PHOTO at top of this page
---