ZKIT2
Zen Triode mono SET amplifier kit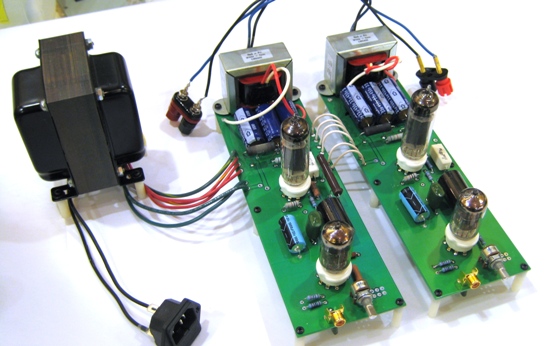 Up to 3 boards can share one power transformer.
Single-Ended Triode Kit can be used to create:
A stereo amplifier (as shown above)
A pair of mono blocks
A multi-channel amplifier for home theater!
You supply the TUBES and CHASSIS
The Kit comes as shown with proprietary Decware power and output transformers. Audiophile quality parts are used throughout, including ceramic tube sockets, 100K level control, standoffs, binding posts and components by Vishay, Dale, Nichicon, Sprague ATOM, Solen, and a high quality reversible board designed to work on a flat piece of wood, or upside down in a steel or aluminum chassis.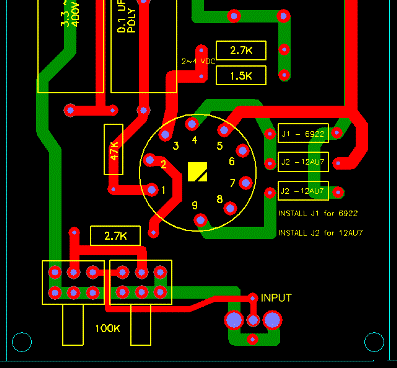 The level (gain) control can be mounted on either side of the board, as can the input jack. You can also remote mount either in the chassis and run shielded cable to the circuit board.
This is a 2 watt mono amplifier configured as a single ended triode and operating in class A. It uses a single output tube, EL84 or SV83 and a single input tube, 6922 or 12AU7. The input tube is determined by installing jumpers on the circuit board shown above.
It features a horizontal AC buss design that allows you to connect up to 3 boards to one power transformer.
---

SIZE = 3 INCHES X 9.5 INCHES

---
Below are 7 possible configurations: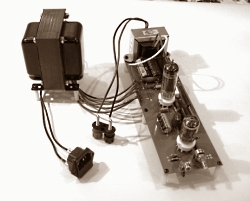 1) A single power transformer and 1 board for a mono amplifier that could be used for a center channel.
---
2) A pair of power transformers and a pair of boards for a pair of mono blocks.
---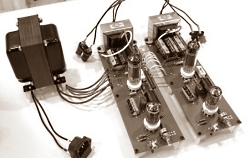 3) A single power transformer and a pair of boards for a stereo amplifier.
---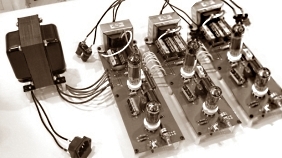 4) A single power transformer and three boards for a 3 channel amp.
---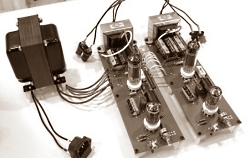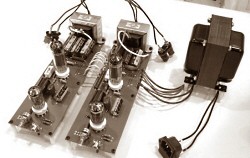 5) A pair of power transformers and four boards for a serious 4 channel amp. Note: The AC buss of all 4 boards can ALSO be tied together putting both power transformers in parallel for even more headroom / which btw, is the only way a 5 channel set up can be wired.
---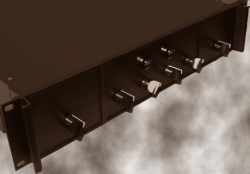 6) A pair of power transformers and five boards for a 5 channel amp. Each board is 3 inches wide making it possible to fit 5 of them inside a rack mount chassis as shown. The power transformers can be mounted either in a separate chassis or in the same chassis provided there is adequate depth.
---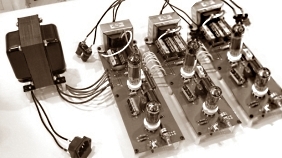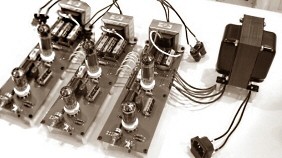 7) A pair of power transformers and six boards for a 6 channel amp.
---

IDEAL SPEAKERS:
We have successfully driven hundreds of different loudspeakers ranging in efficiency from 90 to 100dB 1w/1m. On 90dB speakers it works nicely in smaller rooms or for late night out of body experiences. 94 to 96 dB speakers are ideal in that they let you play beyond a normal listening level and preserve the dynamic headroom. When the basic Zen Triode Amplifier (that these are designed after) was first released in 1997 there were a minimal number of "high efficiency" speakers to choose from. Today that is no longer the case - they are everywhere. We also offer several different types of loudspeakers that will work with this amp.
SPECIFICATIONS:
This amplifier requires no adjustments or maintenance other than changing tubes every couple of years. It is a self biasing design. The SV83 (6P15P-EV) or EL84 output tubes wired in triode were chosen over 300B, 2A3, 45, and other triodes for having the better neutrality and speed.
Weight

10 lbs. ea. (power transformer, output transformer and 1 board) Additional boards with output transformers add aprox 3 lbs per.

Aprox. Dimensions

Transformer 4" x 4" x 4"
Board 2.5" H x 3.00" W x 10.0" D

Circuit type

Single ended Class A Triode

Power output

2.3 watts RMS into 4 ohms

Input voltage

2.0 volts for full output

Noise / Hum

Less than 1.0 millivolts

Response

20 Hz ~ 20 kHz

Feedback

ZERO negative feedback used

Output tubes

SV83 or EL84/6BQ5

Signal tube

6N1P or 6922 or 6Dj8

Transformers

All transformers are custom made for this amplifier by Decware

Biasing

Self-Biasing circuit - never needs adjustment

Resistors

All resistors are precision WW/MF by DALE, VISHAY

Signal Cap

Poly 1.0 uf 400v

Consumption

65 watts at full power (2 boards on 1 transformer)

Output jacks

5-way binding posts accept 14 gauge wire

Speaker dB/1w

89 dB minimum / 96 dB is ideal
VOLTAGES

This unit comes standard with our World Voltage Compatible Transformer. It can be wired for 100, 120, 220, 240 V 50/60 Hz.

TUBES:
This amp is designed for premium quality N.O.S. 6P15P-EV output tubes rated at 5000 hours. These Russian military spec tubes are the top grade of what we came to know in this country as the SV83. You can also use EL84's without adjustments of any kind. You'll find the SV83's to be unparallel in speed and detail - in part because it is a video tube with much wider bandwidth then a normal audio tube. We think these are the best sounding most transparent tubes available today. The EL84 (6BQ5) is a bit warmer sounding giving the amp a different signature by just switching output tubes.
The input tube is a single 6N1P, 6922 or 6DJ8 - your choice. 6N1P's have the warmest tone, 6922's have the best dynamics, 6DJ8's have the most air and micro-detail with a touch less bass. You can also configure the board for 12AU7 and or a 12AT7. Again, a powerful tool for voicing your amplifier to your particular tastes.
WARNING - THIS KIT IS FOR EDUCATIONAL PURPOSES ONLY AND CAN NOT BE USED IN A RESIDENTIAL HOME WHERE CHILDREN OR PETS CAN COME IN CONTACT WITH THE HIGH VOLTAGES PRESENT. FOR HOME USE IT MUST BE BUILT INSIDE A METAL CHASSIS.
---
PRICING

Note:
Comes with power supply and 1 board (channel).
You can add additional channels in the shopping cart.

ZKIT2

$278.0

ADD TO CART

Power supply and Circuit board with all parts
ZKIT2-BO

$45.00

ADD TO CART

Circuit board with NO parts



MADE IN USA



View Cart or Check Out
---
Decware products are proudly hand made in the USA by High Fidelity Engineering Co.
Copyright © 1996 ~ 2010 by Steve Deckert