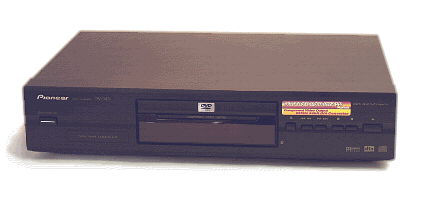 Model DEC-343
DECWARE Mod for Pioneer DVD/CD/CDR player
NOTICE:
Pioneer has discontinued the DVD-343 player. We still offer this mod to existing units. If you don't own one, they show up frequenty on ebay.
---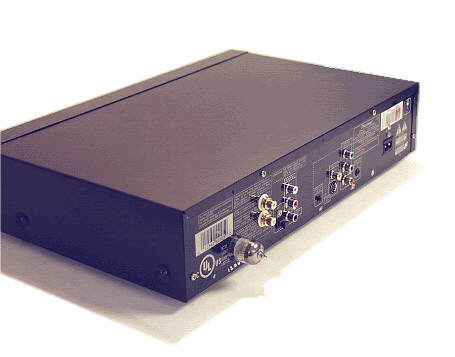 This player features a single ended triode output stage where the tube is visible and accessible from the rear. It uses a dual triode (12AU7) and may be rolled with 12AT7 and 12AX7 tubes as well. This is probably the most popular of all signal tubes making them easy to acquire with a large variety to choose from.
A new pair of gold/Teflon high quality output jacks are also installed on the rear representing the tubed output. The stock output jacks are still active. That comes in handy sometimes if for no other reason then to A/B the stock output stage with the added tube output stage. Huge difference.
The tube stage features it's own power supply. It comes on when the CD player is plugged in. It remains on 24hrs a day so it's always properly warmed up and ready to play at all times. The CD player itself turns on and off with the power button or remote.
This unit is a wonderful little DVD player too! (Enjoy movies? Why shouldn't your movies sound better too?) It has a 24/96 DAC and plays CDs, DVDs and all computer burned CD's.
---
SPECIFICATIONS

10-bit/27MHz Video DAC with Viter-Bi Error Correction

96kHz/24-bit DAC for superb sound quality

Component Video Output (DVD, Video CD)

DTS® (Digital Theater Systems) Digital Out (DVD)

Dolby® Digital Digital Out

Twin-Wave Laser Pickup for CD/Video CD/CD-R/CD-RW Playback

Advanced GUI (Graphic User Interface)

High-Speed Loading

Program Memory (Chapter/Title) (DVD)

Quick Resume Function (DVD, Video CD)

Condition Memory (DVD)

Continue Play Memory (DVD, Video CD)

Personal Modes

"Heads-Up" Remote Control Unit

Twin-Triode cathode follower output stage with separate high quality output jacks and dedicated power supply.


OWNERS MANUAL



POWER REQUIREMENTS:
Pre-configured for either
120 Volt 50/60 Hz 20 Watts


NET WEIGHT:
13 LBS SHIPPING: 15 LBS (each)


DIMENSIONS:

16.5" W x 12.0" D x 4.25" H


WARRANTY:
90 DAYS PARTS & LABOR
on DVD Player with
5 YEARS on
TUBE OUTPUT STAGE
to original owner
1 year on tube.


---
PRICE OF THIS MOD IS $400.00
If you have one of these units and want it modded,
please call or e-mail us.