My Tonearms
---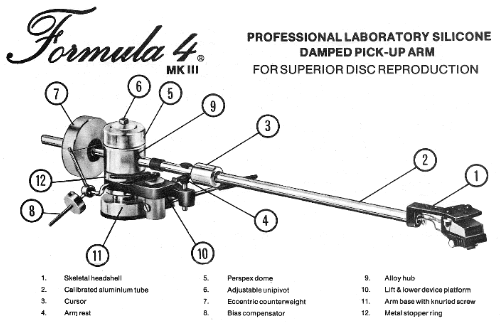 This is the arm that I use with the Grado cartridge. It is almost the lowest mass arm I know of and a perfect match for the Grado. With the Grado I do not use the anti-skate (#8). I fitted my Mayware Formula IV arm with a solid silver cable set.
---
FIDELITY RESEARCH
The FR-64fx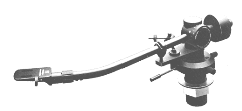 The FR-64fx is a dynamic-balanced arm with basically the same construction as the FR-64S but a much lower equivalent arm mass, enabling it to match the performance of moving-coil cartridges with higher tracking ability. Fidelity Research's design concept for thc FR-64fx called for both higher sensitivity and higher rigidity. To satisfy these two requirements simultaneously, FR concentrated on the arm suspension, replacing the conventional angular contact type bearing/pivot assembly with precision radial ball bearings for both vertical and horizontal motion. The result was both higher sensitivity and higher rigidity. The arm pipe was made extremely hard and rigid by the use of deep-oxidised aluminium, while the rigidity of the mounting between headshell and arm was improved by the use of a collet-chuck type connector and the 'key bar' construction of the headshell itself. The heavy construction of the arm mounting base and the pillar gave rigidity to the mounting and had a good stabilizing effect. I use this arm with my Fidelity Research MC202 cartridge.
---
GRACE
714 Teakwood .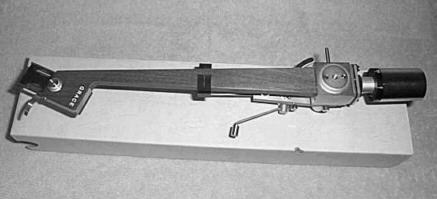 I use this arm with my Denon DL103 cartridge. It is a uni-pivot/fluid damped arm with removable headshell. It's high mass works great with the Denon DL103 cartridge.