Just wanted to revisit this thread as there is so much awesome info in it.  And that I finally had my "Lon" moment or cable epiphany! :D
When I first purchased my Omega Speakers, Louis (the owner), was in the middle of designing 3 different drivers for his RS7 line.  
(a) RS7 (regular drivers from 44 - 20kHz),
(b) RS7V (vintage drivers from 44 - 15kHz),
(c) RS7A (alnico drivers from 44 - 18kHz).
At the time of purchase Louis only had the Vintage drivers ready, so he sent those to me and told me to let him know if I liked them.  At the time I started looking for cables I had a pair of 14g OFC copper cables that I picked up for like $20 and they were decent enough, but I always felt there was something missing at the top end of the speakers, so I thought I needed cable that wasn't as warm as copper and decided to try a few silver cables.  I tried the Clear Days and a couple of others listed above, but they did not make enough of a noticeable difference (for the money).  Then LR sent me some Zen Styx like cables and they really gave a little shimmer on the top end.  They were by the far the most effective at adding a little something to the top end that I felt was missing using the RS7V drivers and I was mostly using this in a near field listening situation.
After living with the Vintage drivers for a while and moving to a new place where I'm further away from the near field position than I was before ... I came to the conclusion that despite the great midrange, they were just too rolled off in the highs for my tastes.  Even though I'm almost 49 and I can't hear too much above that these days, I still felt as if something was missing and things such as cymbals did not decay as much as I would have liked and sounded a tad muffled, it was almost as if the drummers were in the back alley of the recording studio (not in the same room).  So I contacted Louis and told him, he said the Vintage drivers are tuned that way for a specific sort of sound and being the great guy he is, Louis sent me a pair of the RS7 regular drivers which have an extended upper range in comparison (free of charge).
So I swapped the new Regular drivers in and sent the old ones back to Louis and tried not to listen too critically until I got a hundred hours or so on them.  But I noticed right away that something was not sounding right and every cymbal tap (no matter if it was a hi-hat, ride and even gongs and cowbells) all I heard was "tisk, tisk, tisk".  Well I gave them some time, but the "tisk" sound never went away and it was getting to me so badly that it's all I could hear and focus on when listening to music so it was basically ruining my musical enjoyment.  
I was very bummed out and thought that I actually made a turn for the worse by getting the new drivers and by their extended range were now showing other weaknesses/problems within my setup.  So I went through a process of elimination ... first I tried the source and it did not make a difference, then with and without the preamp and that made no difference either.  So then I thought screw it, maybe it is just a dirty little secret that single driver owners never talk about and I was getting some type of Doppler effect, so I'm going to buy a new set of speakers.  The problem with that is with the Taboo I'm limited to and need very efficient speakers and they can get expensive, so I spent a month or so reading up on efficient speakers and what else was out there, but came to the conclusion that I could not afford another pair of speakers and I was just going to have to tough it out.
It was at that point I remembered reading a post by Dave (from Dave's Cables which is one of the original venders I was looking into in the first place) on the Audio Circle forums that certain silver over copper cables can introduce a tizziness to speakers that was especially apparent in efficient single drivers that don't use crossovers.  At the time I blew it off because (1) the Vintage drivers were too rolled off to notice any tizziness, and (2) Dave sells speaker cables and thought that perhaps he was just looking to get me interested in his cables a little more ;D.  BUT as a last ditch effort I went to my garage and got out my original OFC $20 copper cables, swapped then back in and voilà ... all tizziness = gone!
It was at that point I came to my first conclusion that speakers cables may be more system/speaker dependent than I thought.  My second conclusion was that even though the old cables fixed the tizziness problem, things sounded dull and did not have the liveliness of the Zen Styx style cables.  So I contacted Dave (Dave's Cables which is now
ZenWave Audio
) and thanked him for posting that as I didn't even think it could have been the cables, we exchanged a few emails and he said he would send me out a couple of his cables to see if I liked any of them better than what I was currently using and if I did he would make me a pair and if not no worries just send them back at his expense, so I couldn't refuse and a couple days later I got a box of his goodies.
He sent me a pair of his
SL version of UP-OCC speaker cables in 20g and 17g sizes
.  The 20g is a side by side run and the 17g has a braided geometry (he also sent me a couple different pairs of his
interconnects
to try out ~ the ZenWave DD which uses Dueland Silver and ZenWave D3 which is a UPOCC Silver and Gold alloy).  Back to the speaker cables ... they actually look like and are about as thin as shoestrings ... in fact if you swapped them into a pair of Chuck Taylors I don't think anybody would be the wiser :D.  When I first got them I was sort of expecting a hefty cable similar to the Zen Styx and/or my OCF 14g copper cables, but they are pretty light and flexible.
* These are pictures of the demo 17g, not the finished product which is much nicer.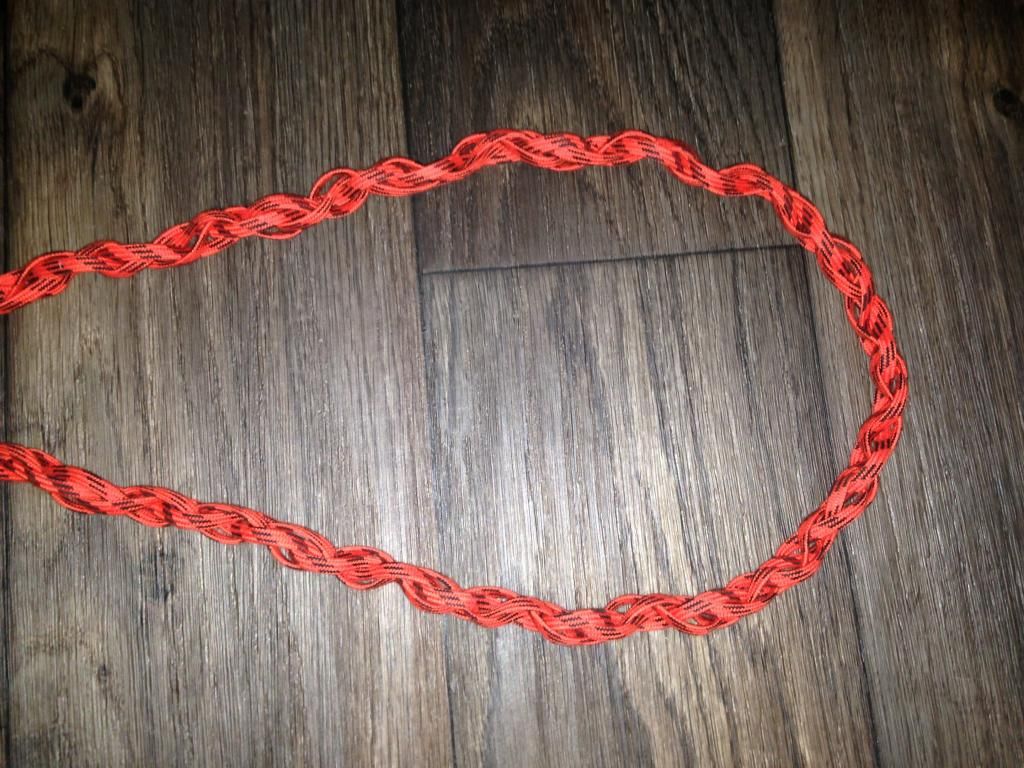 Well I've never listened so intently to speaker cables before. Literally I've been swapping the 2 speaker cables back and forth and even had my lady and my 15 year old boy both sit down with me at separate occasions for a good intensive listening session and they both gave me "the same" feedback. I tried not to get involved with their decisions and let them both know that there is no right or wrong with the cables and to just let me know which ones they liked better and why. What was unexpected is that we all came to the same conclusions on sound and preference.
We listened to 3 songs on each cable ~
(1) Ani DeFranco - 32 Flavors. I chose this song as it has great sort of breathy female vocals and there is a lot of percussion involved (especially in the beginning).
(2) Miles Davis - Saeta (from Sketches of Spain). I chose this songs as the percussion starts off very delicate and clicky (if that's even a term) and then builds, and the sound stage moves from left to right subtly ... one minute you're hearing percussions on one side and then horns move to the right ... really just a mesmerizing track.
(3) Neil Young - Cortez The Killer. This has to be one of THE most classic rock songs of all time, the guitar work is outstanding (no doubt as its one of Rolling Stones greatest guitar solos of all time), but the cymbal work on this track is especially outstanding in the recording as well. I can't think of another song in my library that matches the awesome recording of the cymbals and percussion on that track.
All tracks were 192/24 hi-res and used with a McIntosh C220 preamp, Decware Taboo MK II amp, Rega DAC, Omega RS7 Loudspeakers and an Asus VivoPC with Windows 8.1 and JRiver MC 19 (line leveled and volume was set the same throughout the entire listening duration).  The speaker cables used were Dave's SL UPOCC Copper in 17 and 20 gauges and compared to my 14 gauge Oxygen Free Copper cables.  All with bare terminations which is how I prefer them (with tinned/silver soldered ends to keep them from fraying).
I don't know a lot of audio terms, so I'll just try to explain the differences and what I heard with each one.
I first tried the 20g side by side as they are the least expensive and (being the cheap bastard that I am) if I could get away with a cheaper version that didn't make that huge of a difference compared to the more expensive version then that's one that I'm going to go for. ;D
First off, both the 20 and 17 gauge speaker cables are fast compared to the Oxygen Free Copper cables I had before. And both cables are good at the retrieval of information. But to be 100% honest, the thing was that even though the 20g were better than the OFC copper cheapy cables I had in there, I could not justify the price difference.  After first demoing the 20g I again thought that I just don't have the golden ears that Lon, Stone, Will and a lot of you other guys seem to have.
But that is where the road ends. After swapping in the braided 17 gauge and began listening, I was taken aback immediately! First off, we all thought that the percussion instruments sounded live, as if they were almost in front of us. The 20 gauges were good at this as well, but they sounded as if the drummer was further in the background in comparison.
The 17's however sounded as if the drummer was literally in front of us. Things that were in the background moved forward as if on the same stage or plane as the other players. I've never heard this happen on another cable and seriously ... I never thought that speaker cables would have this dramatic of an effect on my system, but with the 17s there has been a retrieval of information and a placement of the musicians up front that I was not expecting to happen. To say that this made a difference in my musical enjoyment is an understatement as I couldn't stop listening to music going way into the early AM.
OK, so here's my comparison of Dave's 17ga vs 20ga after a couple weeks of listening. The 20 gauge seems faster and the bass seemed a tad more taught and focused, they were better than the cheap 14g OFC cables I had in there and if I never heard the 17g braided cables I would have easily chosen them over the 14g OFC. However the 17's retrieved WAY more info, the decay of instruments (especially cymbals) was off the charts and spooky real, the bass (while not as taught as the 20g) was fuller and the tones overall much richer, and the 17g preserves fine detail in note decay and reverb trails better than anything I've heard to this point. IMO, the 20 gauges are really good, but the 17's are probably the most significant upgrade to my system that I have heard to this date.
It's at this point I began to say to myself ... Hmmm now I know what Lon and you other guys with the Golden Ears have been talking about all this time! ;D
Sorry for the long winded exercise in getting my thoughts together about these cables, but just wanted to say if you're looking for a good set of cables at a reasonable price, the 17g braided is only $219 plus shipping (if you go with bare terminals like myself, however adding spades or plugs are extra) definitely put the 17g and 20g on your list to demo.
As an aside note, by having these speaker cables in my system I am able to hear and notate other discernable tweaks within my setup such as interconnects, etc.  Who would have thunk it? ::)
Edit: I almost forgot to say that the RS7 Regular Drivers have hit a sweet spot for me as well, IMO they are better than the Vintage drivers by a fair margin and have the other nuances that I was looking for as far as an extended upper range while still preserving the excellent midrange, speed and detail that single drivers are known for.  I won't be getting rid of these any time soon ... well unless I trade up into one of his newer Outlaw designs with his top of the line Alnico Hemp Cones. ;)