Title: Re: Audio Expo North America
Post by Steve Deckert on 03/13/13 at 02:20:26
---

observations:

If Robert Harley's magazine (The Absolute Sound)  is correct, he claims that somewhere around 80% of the magazines readers have higher educational degrees and make over 100,000 annually.  

That actually makes sense because those are the only people who can afford the gear the magazine writes about - not that it targets expensive gear, but that expensive gear makes up the majority of main stream hi-end... which ironically takes it out of the main stream.

Expensive gear was of course the theme of the show for me in that I found myself, as usual, wishing the industry wasn't so stuck on itself.

I noticed that all of the venders assumed that because they're name was on the room, everyone would be familiar with their product lines and coming to the show to hear specific things.  That was a well repeated mistake.  The rooms are small, a lot of people to funnel in and out, can't see the name on the speakers, can't see what amps are playing because of course everything is turned on, and the recordings....  makes it impossible to know what the system really sounds like unless you brought the recording.

Personally, if I did another show, based on my observations, I would go with a less is more approach.  Bring the SuperZen 2 watt amp, my corner horns, and a well done flyer with the simple goal of making a big enough impression so as to have them take a single page hand out and look Decware up on the internet when they get home.  

The smallest amp I saw at the show was 8 watts, the overwhelming majority that were in use for demo purposes were high power many to the extreme.  A lot of solid state stuff there that fell into that camp and of course it sounded good on the surface, albeit always a bit clinical, it just didn't have the magic.

Naturally there was some silly stuff going on... $9000.00 power strips with 6 outlets made from $56 dollars worth of granite with some gold spikes... I remember seeing a power cord that was between 3 and 4 inches in diameter but can't remember what system it was on or even what room, that's how big an impression it's contribution to the sound was...

Oh, and the $90 fuses and quantum chips that a pre-programmed for specific things - tape one to your forehead and everything you hear will be better until you take it off.  I thought about actually getting one of those... and taping it to my dick.

Some things that caught my attention were the Newform Research speakers (large towers with a sub and big amps to drive it all)... they had an amazing frequency balance throughout the room.  I had to give him a thumbs up on that one!  There were some little kef speakers there that were belching out the most bass from the smallest box ever that were pretty impressive, although the specs say -6dB at 45Hz and it sounded like +6dB leaving one to wonder what kind of equalization and or digital manipulation goes on since most everyone playing digital used a laptop or server of some sort.  

Vinyl is not a strong enough medium to overcome the clinical qualities of solid state.  Many of the super tables and arms at the show sounded too similar to digital.  I did like the cactus needle cartridge by Sound Smith - I could hear it doing something special.

I was also impressed with Modwright's room and the speakers he paired up with.  It was solid state done right and sounded like it.  Audionotes amps sounded good, but shame on me for not being up to speed on what each model is so I have no idea what I listened to.  Speakers in the corner thing sounded predictably good but with predictably limited depth, at least in a hotel room.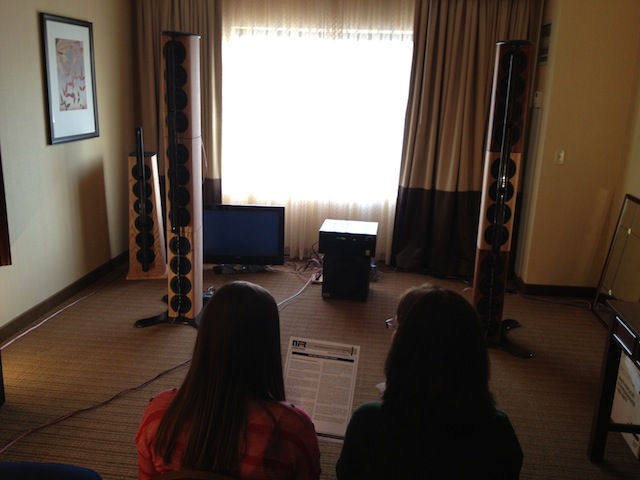 Sarah and DeVon in the Newform Research room.